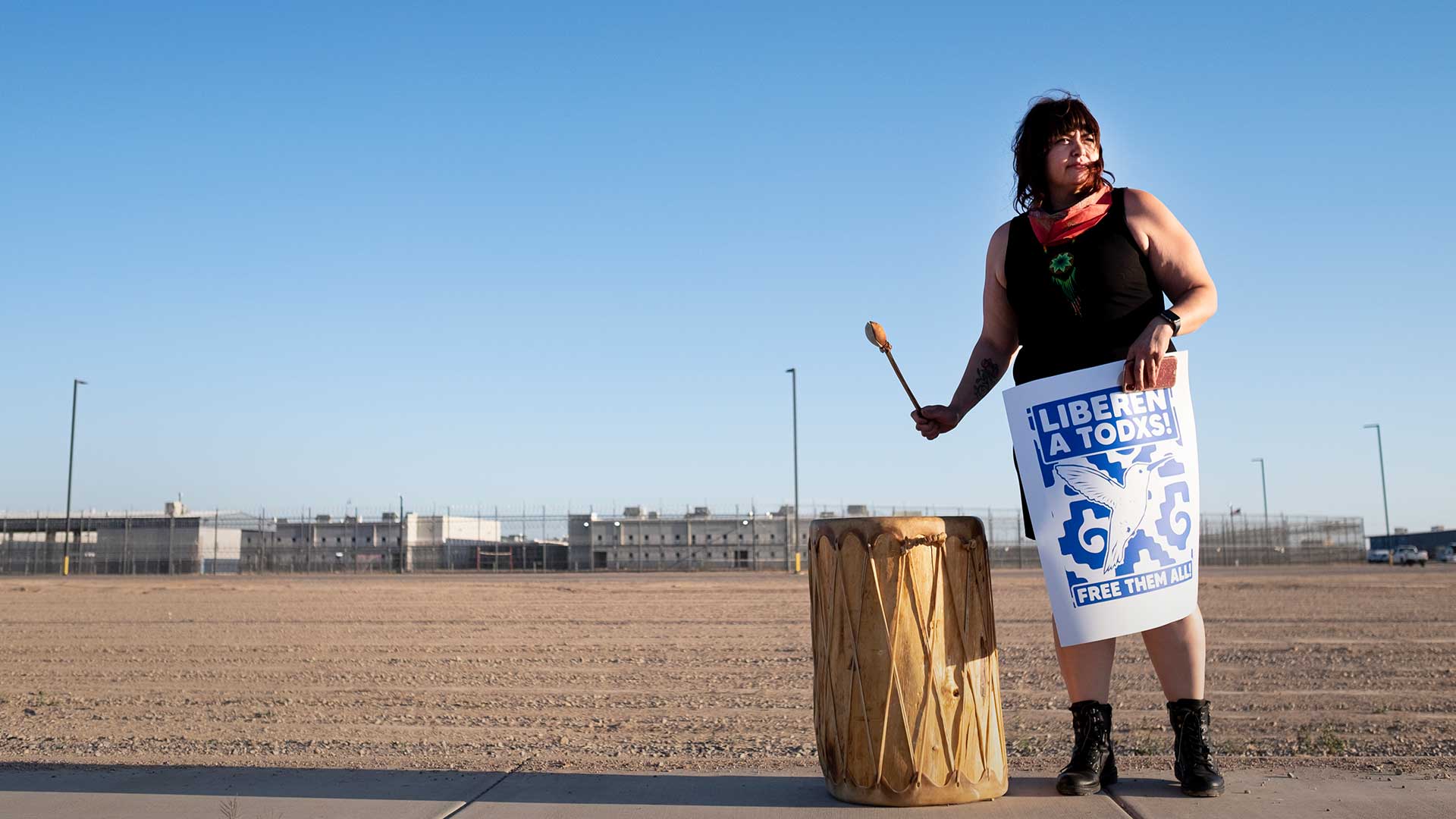 A protester bangs a drum on the sidewalk outside the La Palma Detention Center in Eloy, Arizona. Protesters in over 200 cars circled the facility on on April 10 calling for the release of detainees in the wake of the coronavirus pandemic.
Alisa Reznick/AZPM
Shakira Najera Chilel feels like she's faced death before. As a transgender woman, she dealt with violence and harassment back home in Guatemala and on her journey through Mexico. She came to the U.S. to seek asylum. But now, she said she's right back where she started — face to face with death.
"That's how I see it," she said. "Because you know the pandemic razes everything and you can either be a survivor or die from COVID-19."
Chilel said that's because she now has to contend with COVID-19 while in immigration detention at the Eloy Federal Contract Facility.
The facility is in the middle of an outbreak. Cases have jumped sixfold since Friday. According to Immigration and Customs Enforcement data, 122 people detained there have the virus as of Monday — the second-highest case count of immigration detention facilities nationwide. In an email, ICE spokesperson Yasmeen O'Keefe said the agency recorded higher numbers after testing more people who are asymptomatic.
Chilel said a handful of people from her cell block were taken away after testing positive.
"They [ICE] took them from their cells, because they said they felt like they couldn't breathe," she said. "They had fevers and also had bad blood pressure, body aches and headaches."
But she's never actually seen anyone get tested for the virus. She said it can take days before people can get medical attention. She's been waiting, too. Intense digestive problems she developed when first detained eight months ago make it hard to eat, but she still hasn't been able to see a doctor.
"They have told us that if we feel bad, the will send us to a doctor that moment," she said. "But it's a lie, it can happen the next day."

She said usually there are 50 people in her cell block. And she feels like getting sick is inevitable. Experts like UA virologist Felicia Goodrum say wherever the virus is present, social distancing is key to preventing further spread.
"Reduced physical interaction with other people is the way you stop the spread of any virus," she said. "That's probably our first line of defense at this point."
Goodrum says dense populations elevate the risk of contagion. People can spread the virus before feeling symptoms, or test negative for the virus and then test positive a few days later. Widespread and frequent testing can help, but lawyers and immigrant advocates say testing in detention facilities has lagged, meaning actual case counts could be even higher.

Laura Belous with the legal aid group Florence Immigrant and Refugee Rights Project says her clients feel forgotten.
"I think almost every conversation I've had with clients has resulted in them sort of saying, 'I'm scared, I'm worried, I can't be here anymore,'" she said.
Migrants have outlined those fears over the last two months in a series of letters sent to LGBTQ migrant aid group, Trans Queer Pueblo. Detainees with conditions like diabetes say they're scared COVID-19 will kill them. Others say they've resorted to hunger strikes. In a letter sent to Belous' legal group in May, migrants at the La Palma Correctional Center say they're forced to clean medical areas and work in the kitchen with limited access to protective gear. Most of the facility is under quarantine for the virus.
CoreCivic is the private prison company that owns both Eloy and La Palma. In an email, a CoreCivic spokesperson contested those claims. He said migrants have access to protective gear and testing, and aren't forced to work. Eloy and La Palma have a combined capacity of 4,600, but the spokesperson said the facilities are currently well under capacity.
Belous' organization and other legal aid firms recently filed a federal lawsuit asking for the release of 13 medically vulnerable clients in Eloy and La Palma. In a similar suit filed in April, a judge ruled the facilities must make changes to keep people safe. But Belous said continued complaints show that hasn't happened yet.
"We asked the court in that lawsuit to release the plaintiffs because there's no way to be safe during a pandemic," she said.
Both ICE and CoreCivic say they follow federal health guidelines for COVID-19 testing and care. But Department of Homeland Security health advisor Dr. Scott Allen says "gaping holes" in testing guidelines and ICE's failure to significantly reduce population size have made these facilities hotspots for the virus.
"The fact is in the real world, use of those guidelines has been associated with failure," he said during a congressional hearing this month.
That's why Belous and other advocates have been working to get as many people as possible released. Meanwhile, migrants like Chilel are left waiting.
She says lately she's had headaches and bad body aches. Waiting makes her feel in limbo, somewhere between life and death.
"Very frustrating," she said. "I always feel neither in life completely nor in death," she said. "I feel completely dead."
Chilel's lawyers filed a request for humanitarian parole in April and are looking at other ways to get her released as the pandemic continues.