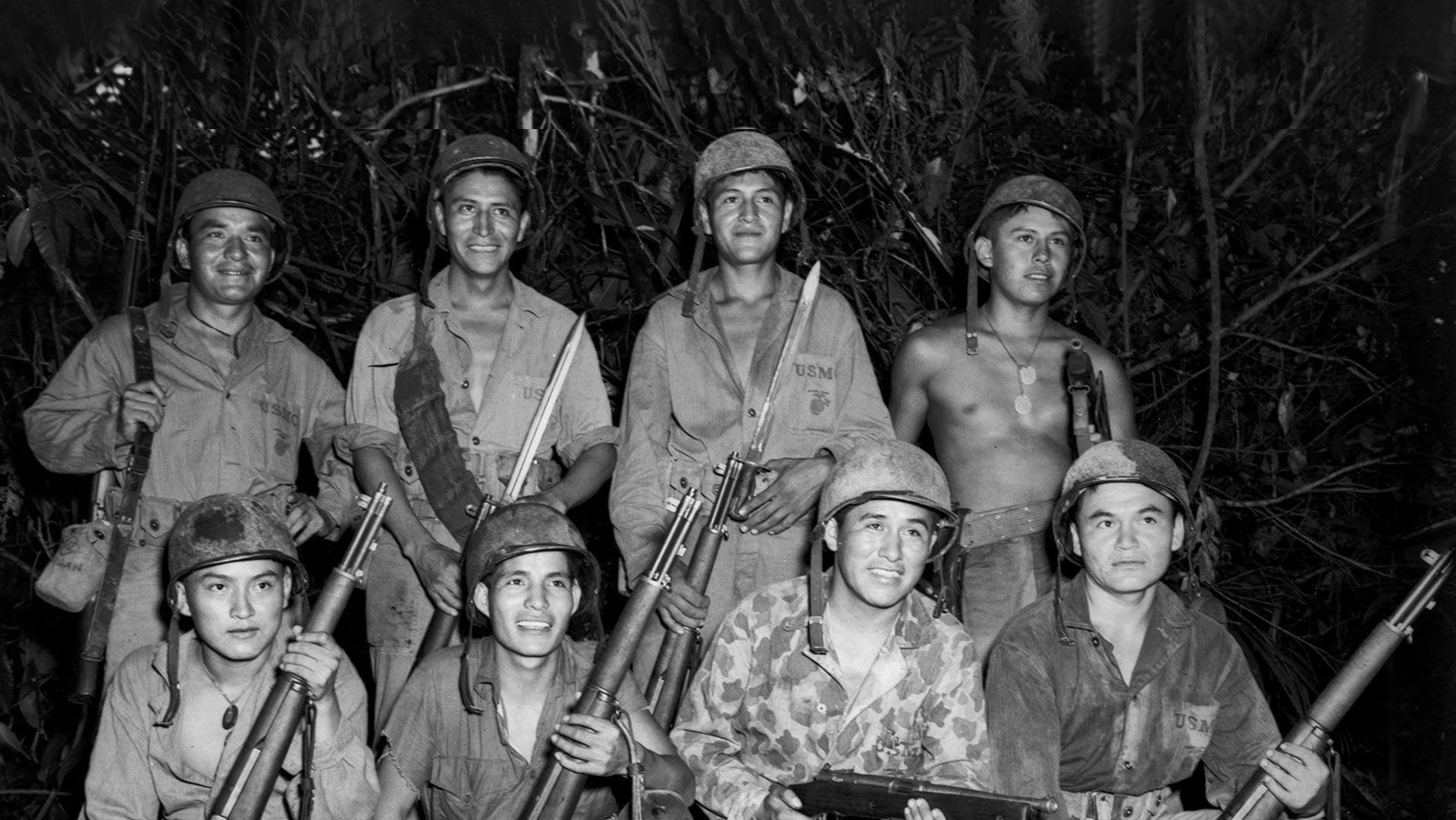 Navajo Marine code talkers on duty at Bougainville, Solomon Islands, c. December 1943. Front row, left to right: Privates Earl Johnny, Kee Etsicitty, John V. Goodluck, and Private First Class David Jordan. Back row: Privates Jack C. Morgan, George H. Kirk, Tom H. Jones, and Corporal Henry Bake, Jr.
PBS
In recognition of Veterans Day and Native American Heritage Month, programming throughout November on PBS 6 and PBS 6 PLUS will honor and celebrate the many cultural and societal contributions made by these groups and explore issues affecting the lives of Native Americans and veterans. Also in honor of Native American Heritage Month, we are partnering with Pima County Public Library and the Pascua Yaqui Tribe of Arizona to present a special screening of The Warrior Tradition at the Richey Resource Center on November 13th. The film tells the largely unknown story of Native Americans who served in the U.S. military. Learn about their service, pain, courage, and fear, as shared in their own words. The screening is free and open to the public. Please visit azpm.org/events for more information.
I would like to extend a special invitation to a joint event celebrating the milestone anniversaries of Arizona Public Media, Hotel Congress, Rialto Theatre and the Tucson Symphony Orchestra. Join the fun on November 24th at Hotel Congress, Maynard's Market, the Historic Train Depot, the Rialto Theatre, and everywhere in between to celebrate "A Century in Tucson." Free and open to the public, the event will offer food, music, children's activities, PBS Kids characters, and more. Additional information is available at community.azpm.org.
Daylight Saving Time ends on November 3rd, resulting in slight adjustments to our radio program schedule. Weekdays on NPR 89.1, Here and Now and Science Friday move to noon and Fresh Air will move to 11 a.m. The Classical 90.5 schedule will not change at this time. For more information and full radio and television program schedules, please go to azpm.org.
I am pleased to announce that AZPM co-producer and host of Arizona 360 Lorraine Rivera has been named one of Tucson's 40 Under 40 for 2019, the third AZPM staff member to receive the award in as many years. A veteran broadcaster, Lorraine has worked in the Yuma and Tucson television markets for the last decade. She is a graduate of the University of Arizona School of Journalism with minors in English and Mexican-American Studies, and most recently completed a Master's degree in Educational Leadership. She joined AZPM in 2013 as the producer and host of Arizona Week, AZPM's first weekly public affairs program. Since taking the role of host/co-producer of Arizona 360, AZPM has been honored with a regional Edward R. Murrow Award for her coverage of issues on the Arizona/Mexico border, and Lorraine received an Emmy® for the Arizona 360 Border Special: Tucson to El Paso. The 40 Under 40 awards are presented by the Tucson Hispanic Chamber of Commerce to honor young community leaders for their professional and charitable work.
Finally, as we embark upon this holiday season, I hope that you will consider making a special year-end contribution to Arizona Public Media. Special TV pledge programming is scheduled on PBS 6 starting November 30th and the radio campaign is slated to begin December 6th. Explore all the ways you can support AZPM at any time by visiting our website.
As always, thank you for listening, watching, and for supporting Arizona Public Media. On behalf of all of us at AZPM, please accept our very best wishes for a happy Thanksgiving!
Sincerely,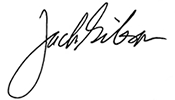 Jack Gibson
Chief Executive Officer