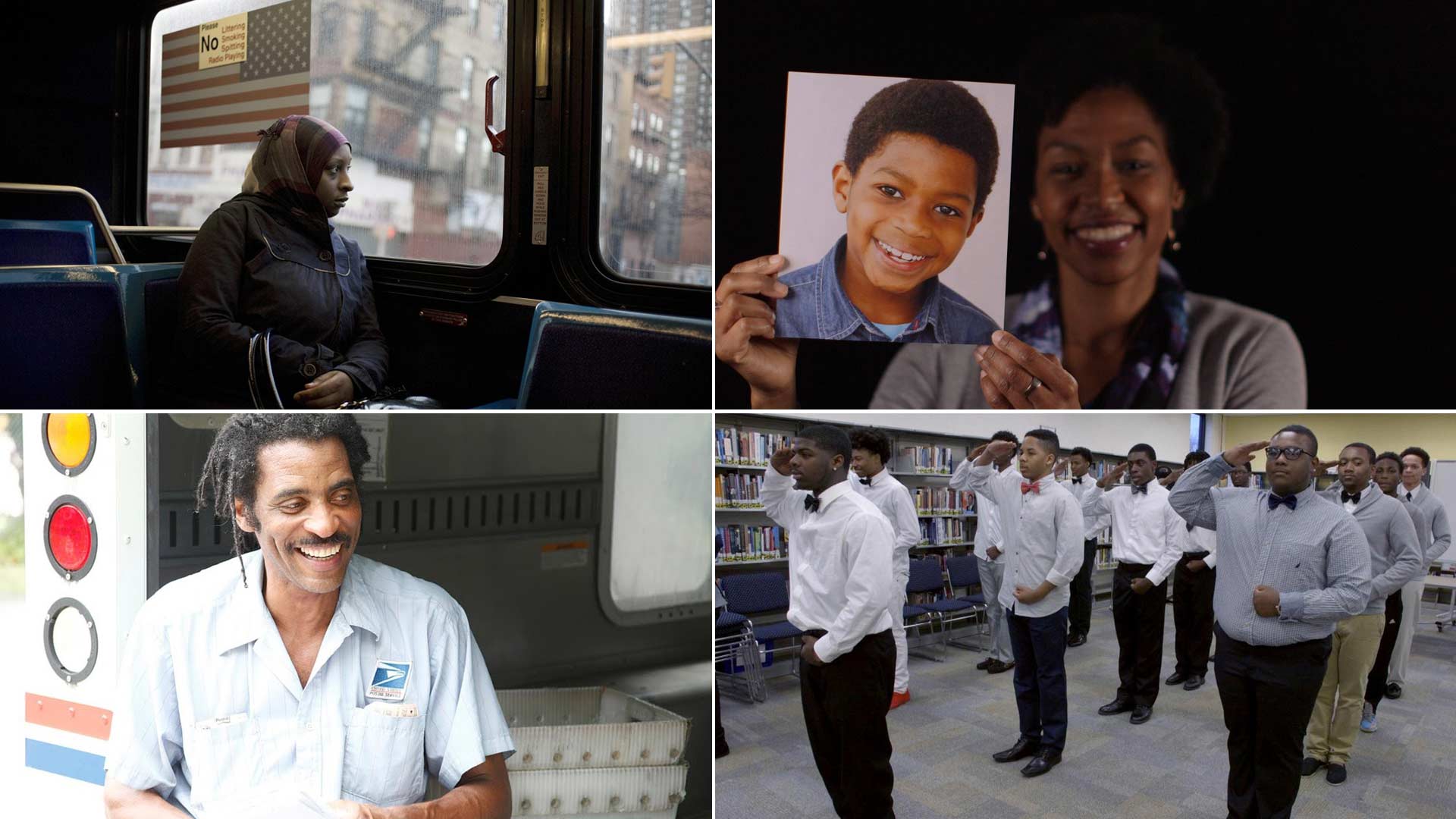 In honor of Black History Month, POV and America ReFramed are streaming a collection films. (Clockwise L to R) Adama; A Conversation with My Black Son; Gentlemen of Vision; Detroit 48202
POV/PBS
Streaming Now for Black History Month

In honor of Black History Month, POV and America ReFramed are streaming a collection of features and shorts on amdoc.org. From domestic life in a Brooklyn cooperative to coming of age in rural North Carolina—these films explore the diversity and complexity of the black-American experience.
POV

By Margaret Byrne
Raising Bertie is an intimate portrait of three African American boys as they face a precarious coming of age in rural Bertie County, North Carolina. 
POV Shorts
By Geeta Gandbhir and Blair Foster
For generations, parents of black boys across the U.S. have rehearsed, dreaded and postponed "The Conversation". But when their boys become teenagers, parents must decide how to handle discussions about race. 
POV Shorts

By David de Rozas
GIVE explores collective representations of history, memory and culture; where pasts, presents and futures are molded by the blending of imagination, facts and love. 
POV Shorts

By Sarah Keeling, Ivana Hucíková, and Grace Remington
Growing up in the largest affordable housing cooperative in Brooklyn, Cassandra's world was artfully framed by her mother's Super-8 camera. 
StoryCorps Shorts

By Gina Kamentsky and Grace Remington
Alex Landau, an African American man, was raised by his adoptive white parents to believe that skin color didn't matter. But when Alex was pulled over by Denver police officers one night in 2009, he lost his belief in a color-blind world. 
America Reframed

By Frank R. Dawson and Abby Ginzberg

(Streaming 2/1-2/28)
Agents of Change examines the racial conditions on college campuses across the U.S. in the late 1960's, focusing on student demands at two seminal protests: San Francisco State in 1968 and Cornell University in 1969. 
America Reframed
By Pam Sporn

(Streaming until 3/29)
Detroit 48202: Conversations Along a Postal Route explores the rise, demise and contested resurgence of America's "motor city" through a multi-generational choir of voices who reside in mail carrier Wendell Watkins' work route. 
America Reframed

By David Felix Sutcliffe

(Streaming until 2/22)
Adama provides a timely perspective on the experience of American Muslims when their religion is being equated, by some, with violence and terror. 
America Reframed

By Frank Popper and Jim Kirchherr

Gentlemen of Vision follows a year in the life of coach, counselor and founder Marlon Wharton, and his 2015-2016 class of young Black males as he strives to rewrite future prospects for his students.
America Reframed

By Rohan Spong

A celebration of artistic exploration no matter one's age, Winter at Westbeth captures inspirational stories about aging and the need to keep creating.


Black History Month Programs on PBS 6 and PBS 6 PLUS
February 1-28, 2019
RED denotes "new" program.
Full schedules are available online. Schedule is subject to change.
List includes first air only. See schedule for repeats tv.azpm.org.


Taste the Islands w/ Chef Irie, Seasons 1 and 2
PBS 6 PLUS: Weekdays, February 1 @ 9am (repeats @ 3pm)
A showcase of the sweet, spicy and exotic flavors of Caribbean cuisine. Host Hugh Sinclair (a.k.a "Chef Irie") - a personal chef, caterer and culinary consultant to elite athletes and corporate clients - introduces spices and traditional dishes and explains their history and relevance in Caribbean culture. Chef Irie's culinary repertoire and passion for Caribbean cuisine and culture shines through as he leads viewers through his unique take on recipes while offering helpful tips and cooking techniques.

Jazz Ambassadors
PBS 6: Saturday, February 2 @ 11am
Discover how the Cold War and Civil Rights movement collided when America asked Dizzy Gillespie, Louis Armstrong, Duke Ellington and Benny Goodman to travel as cultural ambassadors and combat racially charged Soviet propaganda through their music.

Deep City: The Birth of the Miami Sound
PBS 6 PLUS: Saturday, February 2 @ 1pm
Learn how two musical geniuses created the first black-owned record label in Florida. Explore the early days of 1960s soul music in Miami, the pioneers of that era and their lasting contributions to the broader American musical landscape.

From the Streets to the Stage: The Journey of Fredrick Davis
PBS 6 PLUS: Saturday, February 2 @ 2pm
Follow ballet dancer Frederick Davis' personal journey, which began with a broken family and homelessness. His exposure to dance at age 11 changed his life - he found inspiration and support from Ballet Tennessee, his church family and a caring community.

New Orleans Cooking w/ Kevin Bolton, Season 1
PBS 6 PLUS: Sundays beginning February 3, starting @ 8am (repeats @ 1pm)
In a new 26-part cooking series, Chef Kevin Belton takes viewers on a tasty tour of New Orleans. From classic French to soul food to German, Irish, and Italian influences, New Orleans Cooking with Kevin Belton explores the diverse mix of cultures that contribute to the distinctive food of the Crescent City. The self-trained chef began cooking under the watchful eye of his mother and grandmother in the Uptown New Orleans home where he grew up.

African Americans: Many Rivers to Cross
PBS 6: Sundays beginning February 3-17, starting @ 1pm
This series chronicles the full sweep of African American history, from the origins of the people from Africa whose enslavement led to the creation of the African American people, as well as the multiplicity of cultural institutions, political strategies, and religious and social perspectives that African Americans have developed against unimaginable odds. Hosted by Harvard scholar Henry Louis Gates, Jr., and drawing on some of America's top historians and heretofore untapped primary sources, the series guides viewers on a journey across 500 years and two continents to shed new light on the experience of being an African American.

Antiques Roadshow: Celebrating Black Americana
PBS 6: Monday, February 4 @ 9pm
ANTIQUES ROADSHOW honors Black History Month with this special episode. Highlights include an 1821 U.S. citizenship certificate for George Barker, a free man of color; an African-American beauty book written by Madam C.J. Walker, the first American female millionaire; and a trip to the Negro Leagues Baseball Museum in Kansas City, Missouri.

Independent Lens: Black Memorabilia
PBS 6: Monday, February 4 @ 11pm
PBS 6 PLUS: Sunday, February @ 11pm
From the South to Brooklyn to China, meet the people who reproduce, consume and reclaim black memorabilia, racially-charged objects often wrapped in the protective embrace of antiquity and historical preservation.

Finding Your Roots: Freedom Tales
PBS 6: Tuesday, February 5 @ 8pm
Host Henry Louis Gates, Jr. delves deep into the roots of two African American guests, actor S. Epatha Merkerson and athlete and television personality Michael Strahan. Both discover unexpected stories that challenge assumptions about black history.

Kevin Belton's New Orleans Kitchen, Season 1
PBS 6: Weekdays, February 8 @ 11am
PBS 6 PLUS: Weekdays, February 8 @ 8:30pm
Recognized in 2014 as one of the top Louisiana chefs by the American Culinary Federation, chef Kevin Belton explores the wide mix of cultures that contribute to the distinctive food of New Orleans delving into the city's diverse culinary influences, including Cuban and Vietnamese cuisine. The new series show cases the food of the city, from fried oyster po-boy sandwiches with blue cheese and buffalo sauce and Creole brined chicken with collards and yams, to duck and andouille gumbo with potato salad. Throughout the 26-part series, Kevin also emphasizes the bounty of ingredients available in the local pantry - from coffee and seafood to citrus and more. In NEW ORLEANS KITCHEN, Belton continues his mission of teaching home cooks the hallmarks of New Orleans' flavorful cuisine while letting the good times roll, Kevin-style.

Black America Since MLK: And Still I Rise, Season 1
PBS 6 PLUS: Saturday, February 9 & 16 @ 1pm
Henry Louis Gates, Jr. looks at the last 50 years of African-American history - from Stokely Carmichael to Barack Obama, James Brown to Beyonce - charting the remarkable progress made and raising hard questions about the obstacles that remain.

Everyone Has A Place
PBS 6 PLUS: Saturday, February 9 @ 10:30pm
A toe-tapping, hand-clapping musical tapestry features a collaboration of jazz, gospel and vocals.

Jackie Robinson, Parts 1 and 2
PBS 6: Sunday, February 10 & 17 @ 3pm
Examine the life and times of Jack Roosevelt Robinson, who in 1947 lifted a nation and an entire race on his shoulders when he crossed baseball's color line. Ken Burns reveals fascinating stories about the legend's life on and off the field.

Independent Lens: Hale County This Morning, This Evening
PBS 6: Monday, February 11 @ 11pm
PBS 6 PLUS: Sunday, February 17 @ 11pm
Visit the world of Hale County, Alabama. Composed of intimate and unencumbered moments in the lives of people in the community, the film offers a richly detailed glimpse at life in America's Black Belt.

The Dictator's Playbook: The Idi Amin
PBS 6: Monday, February 13 @ 10pm
See how Idi Amin used lessons learned in the colonial British Army to build a powerful dictatorship in Uganda. Though a combination of populist charm and brutal violence, he ruled for eight years -- until his strategic blunders brought him down.

Black Women in Medicine
PBS 6 PLUS: Saturday, February 16 @ 3pm
By combining historical context with a look at the current generation coming up through the ranks, BLACK WOMEN IN MEDICINE chronicles stories of excellence and perseverance that engage, encourage and motivate, planting seeds of aspiration in the minds of future doctors. Through first-hand accounts from a cross-selection of black female pioneers in medicine and healthcare-including Dr. Claudia Thomas, the first black woman orthopedic surgeon and Dr. Jocelyn Elders, the first black woman to hold the position of United States Surgeon General-the program details the challenges these women have experienced and continue to face today in their drive to practice medicine. The documentary brings the inspiring stories of these trailblazing women within reach of those who most need to hear them, especially the next generation of medical professionals.

In Their Own Words: Muhammad Ali
PBS 6: Monday, February 18 @ 9pm
Follow Muhammad Ali's path from a gym in Louisville to boxing successes, conversion to Islam, opposition to the draft, exile from the ring, comeback fights, Parkinson's disease and his inspirational re-emergence at the Atlanta Olympics.

Sammy Davis, Jr: American Masters
PBS 6: Tuesday, February 19 @ 9pm
Explore the entertainer's vast talent and journey for identity through the shifting tides of civil rights and racial progress during 20th-century America. Features Billy Crystal, Whoopi Goldberg, and clips from his TV, film and concert performances.

American Story: Race Amity and the Other Tradition
PBS 6 PLUS: Saturday, February 23 @ 1pm
The primary purpose of the documentary project, An American Story: Race Amity and The Other tradition, is to impact the public discourse on race. To move the discourse from the blame/grievance/rejection" cycle to a view from a different lens, the lens of "amity/collaboration/access and equity." In contrast to the lens that focuses exclusively on the racist traditions that are rooted in America's social history, the moral counterweight of close, loving, friendship and collaboration, which have always been present in our history, represents "the other tradition." This "other tradition" is a source of inspiration and presents models of behavior that are of moral value across generations of present day Americans.

Aretha! Queen of Soul
PBS 6 PLUS: Saturday, February 23 at 2pm
This program, to mark the passing of Aretha Franklin, includes archival footage from her storied career, and interviews that will evoke the memory of the "Queen of Soul." The special is hosted by Hari Sreenivasan.

Independent Lens: Tell Them We Are Rising - The Story of Black Colleges and Universities
PBS 6 PLUS: Saturday, February 23 @ 2:30pm
This documentary and interactive project explores the pivotal role historically black colleges and universities (HBCUs) have played in American history, culture, and national identity. Today, over half of all African American professionals are graduates of HBCUs. More than 50% of the nation's African American public-school teachers and 70% of African American dentists earned degrees at HBCUs. The film brings to a broad national audience for the first time the story of HBCUs, and the power of higher education to transform lives and advance civil rights and equality in the face of intolerance and injustice.

Hollywood at Home: To Sir with Love
PBS 6: Saturday, February 23 @ 9pm
An unemployed engineer (Sidney Potier) takes a job as a teacher of hostile and rebellious students in their last year at a high school in London's tough East End. (1967)

Dream Land: Little Rock's West 9th Street
PBS 6 PLUS: Sunday, February 24 @ 10am
This documentary details the history of the West 9th Street district, the black community in Little Rock and race relations in the city. It also showcases the spirit and hard work of the people who called the neighborhood home, and explores the impact of federal programs such as urban renewal, school desegregation, the Housing Act of 1949, and the Eisenhower Interstate Program.

Black Ballerina
PBS 6: Sunday, February 24 @ 1pm
A story of passion, opportunity, heartbreak and triumph of the human spirit. Set in the overwhelmingly white world of classical dance, it tells the stories of several black women from different generations who fell in love with ballet. Sixty years ago, while pursuing their dreams of careers in classical dance, Joan Myers Brown, Delores Browne and Raven Wilkinson (the Ballet Russe de Monte Carlo's first black ballerina) confronted racism, exclusion and unequal opportunity in segregated mid-century America. In 2015, three young black women also pursue careers as ballerinas, and find that many of the same obstacles their predecessors faced are still evident in the ballet world today. Through interviews with current and former ballet dancers along with engaging archival photos and film, the one-hour documentary uses the ethereal world of ballet to engage viewers on a subject that reaches far outside the art world and compels viewers to think about larger issues of exclusion, equal opportunity and change.

John Lewis – Get in the Way
PBS 6: Sunday, February 24 @ 2pm
PBS 6 PLUS: Sunday, February 24 @ 10pm
Follow the journey of civil rights hero, congressman and human rights champion John Lewis. At the Selma March, Lewis came face-to-face with club-wielding troopers and exemplified non-violence. Now 76, he is considered the conscience of Congress.

Road to Little Rock
PBS 6 PLUS: Monday, February 25 @ 12:30am
"The Road to Little Rock" tells the courageous story of one visionary judge and nine determined teenagers who demonstrated enduring positive human qualities of courage, honor, determination, and responsibility in 1957 in Little Rock, Arkansas. The story features a number of never seen before interviews with members of the Little Rock Nine and Supreme Court Justice Stephen Breyer telling the story of events which led to the integration of Central High School. The actions of these individuals would change the course of public school education and Civil Rights in the United States.

Richard Pryor: Icon
PBS 6: Monday, February 25 @ 10pm
Richard Pryor's impact on the craft of comedy and today's top comics is legendary and unrivaled. This program surveys the profound and enduring influence of one of the greatest American comics of all time.

Charley Pride: American Masters
PBS 6: Tuesday, February 26 @ 9pm
Explore the complicated history of the American South and its music through the life of country star Charley Pride. Raised in segregated Mississippi, his journey shows the ways that artistic expression can triumph over prejudice and injustice.

Maya Angelou: American Masters
PBS 6: Thursday, February 28 @ 1pm
Journey through the prolific life of the I Know Why the Caged Bird Sings author and activist who inspired generations with lyrical modern African-American thought. Features new interviews with Oprah Winfrey, Common, the Clintons, and others.