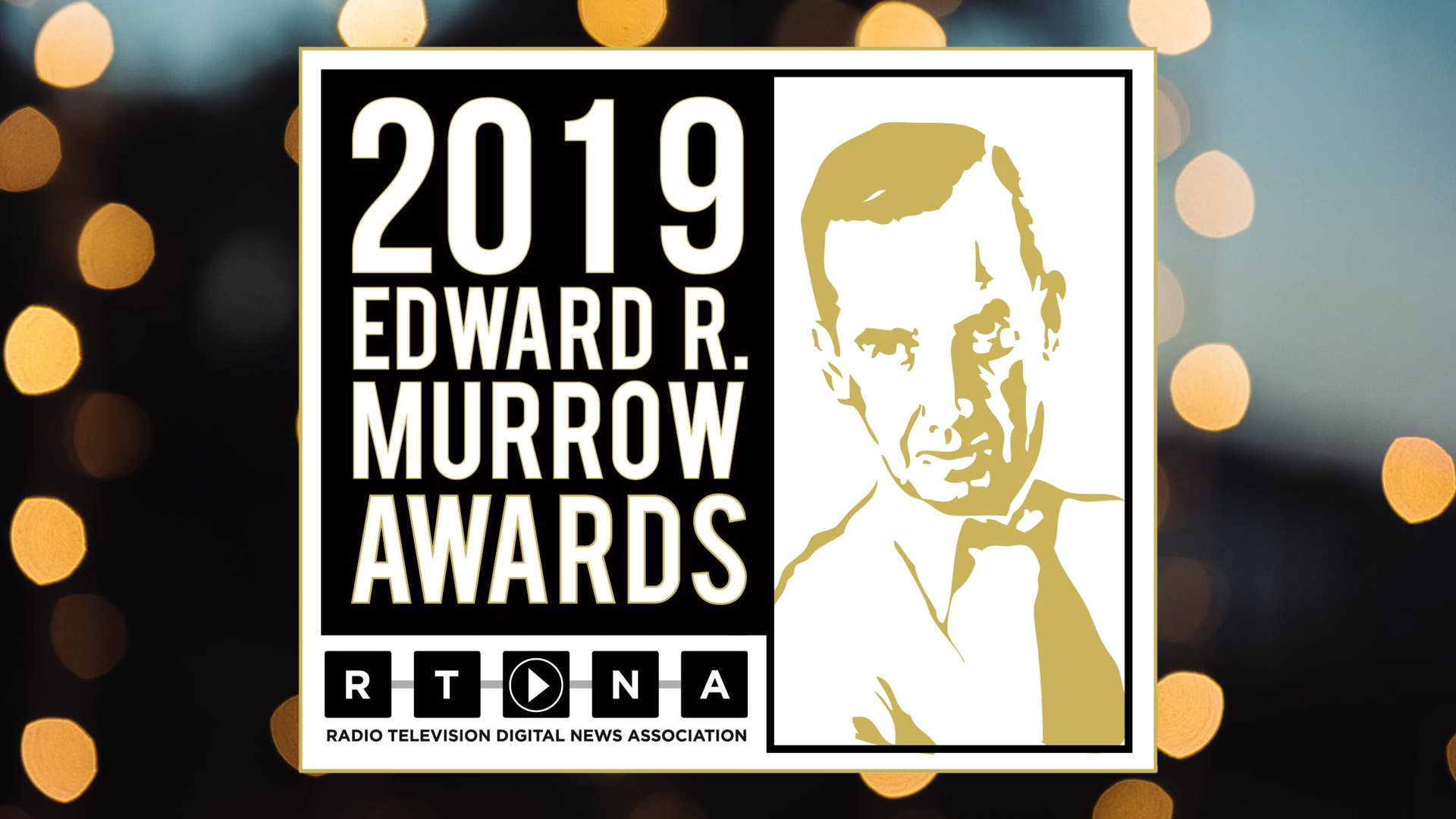 Arizona Public Media has won four Regional Edward R. Murrow Awards by the Radio Television Digital News Association (RTDNA).
Arizona Public Media (AZPM) was honored today with four Regional Edward R. Murrow Awards by the Radio Television Digital News Association (RTDNA).
"Receiving multiple Regional Murrow Awards is an honor," said Jack Gibson, AZPM Chief Executive Officer. "They are among the most respected journalism awards in the world. I am very proud of the work our team puts into creating stories that place public interest above all else and provide a catalyst for public discussion."
Regional Murrow Awards are presented to small and large radio, television and digital outlets based on 14 geographic regions. AZPM received multiple awards in Region 3, which includes all TV and radio stations in Wyoming, Arizona, Colorado, and New Mexico. Regional winners are automatically advanced for National Murrow Award consideration.
The Edward R. Murrow Awards are presented to news organizations based on the specific body of work submitted. AZPM won seven Regional Murrow Awards in 2018 and in 2016 the radio news documentary Divided by Law went on to win a National Murrow Award.
AZPM received Regional Murrow Awards in the following categories:
Region 3

Small Market Radio

News Documentary
What A Colorado River in Decline Means for the Radical Idea of Resurrecting Glen Canyon
Vanessa Barchfield, reporter/producer

Ever since Glen Canyon Dam was completed in 1963, people have talked about tearing it down. The dream of bringing down Glen Canyon Dam and draining the lake that it holds has survived these 55 years, mostly on the fringe. But as a long, hot drought marches toward its 19th year and levels on Lake Powell drop, some are again asking: is now the time?


Small Market Television

Excellence in Video
The Survivor
Gisela Telis and Sandra Westdahl, producers
Sandra Westdahl, videographer/editor

There are 42 million sexual abuse survivors living in the U.S. today, and most have never told their story. Danielle McFarlin has made it her mission to break that silence. After years spent numbing her pain with drugs and alcohol and attempting—multiple times—to end her own life, she found a reason to live and embarked on a spiritual journey. It would lead her to confront the people and places where her traumatic experiences took place, and to carve out her own path to empowerment and healing. Now, as the #MeToo movement brings more survivors and their stories out of the shadows, she's helping others find their path to healing from the trauma of sexual violence.

Feature Reporting
Where Dreams Die
Sandra Westdahl, producer/editor
Arlene Islas, videographer

In the 1990s, U.S. Border Patrol implemented policies that increased enforcement in urban areas, leading migrants to cross in remote, dangerous terrain. Since then, more than 3000 human remains have been found in Southern Arizona and thousands of people are missing. Local artist Alvaro Enciso has made it his goal to remember and honor the lives of the migrants who have died in the Sonoran Desert. Every week, he goes out with a group of volunteers from the Tucson Samaritans to place crosses at the exact location where the remains where found. Thus far, he has honored more than 800 lives. Since many remains are unidentified, the families will never know about the crosses. However, sometimes Alvaro is able to connect with the families with the help of the Colibrí Center for Human Rights.

Sports Reporting
Liam Pace
Andrew Brown, producer/editor/videographer

Liam Pace started skateboarding when he was five years old and it turned into a lifelong passion. Now, in his senior year of high school, Liam has to figure out how to pursue his dream of competing at a professional level while staying in Tucson, a community that lacks the facilities he needs to train, to help his single father take care of his sister.


Regional winners will advance to the National Edward R. Murrow Awards competition. National Murrow Awards, including those for network news organizations, large digital news organizations, and for students, will be announced in June. The National Murrow Awards are presented at the RTDNA Edward R. Murrow Awards Gala at Gotham Hall in New York City on October 14, 2019.
---
About AZPM Arizona Public Media (AZPM) is an editorially independent, nonprofit public service of the University of Arizona (UA) and provides three television program services (PBS 6, PBS 6 Plus, and PBS Kids), three radio services (NPR 89.1, Classical 90.5, and the BBC World Service) and a variety of online program offerings at azpm.org. AZPM is funded through the generous support of annual and sustaining members, the business community through program underwriting, fee-for-service production activities, the Corporation for Public Broadcasting, and direct and in-kind support from UA.
Arizona Public Media® and AZPM® are registered trademarks of the Arizona Board of Regents, which holds the FCC broadcast licenses for all AZPM stations, for the benefit of the University of Arizona. More information about AZPM, including program schedules and Video-on-Demand offerings, can be found online at azpm.org.