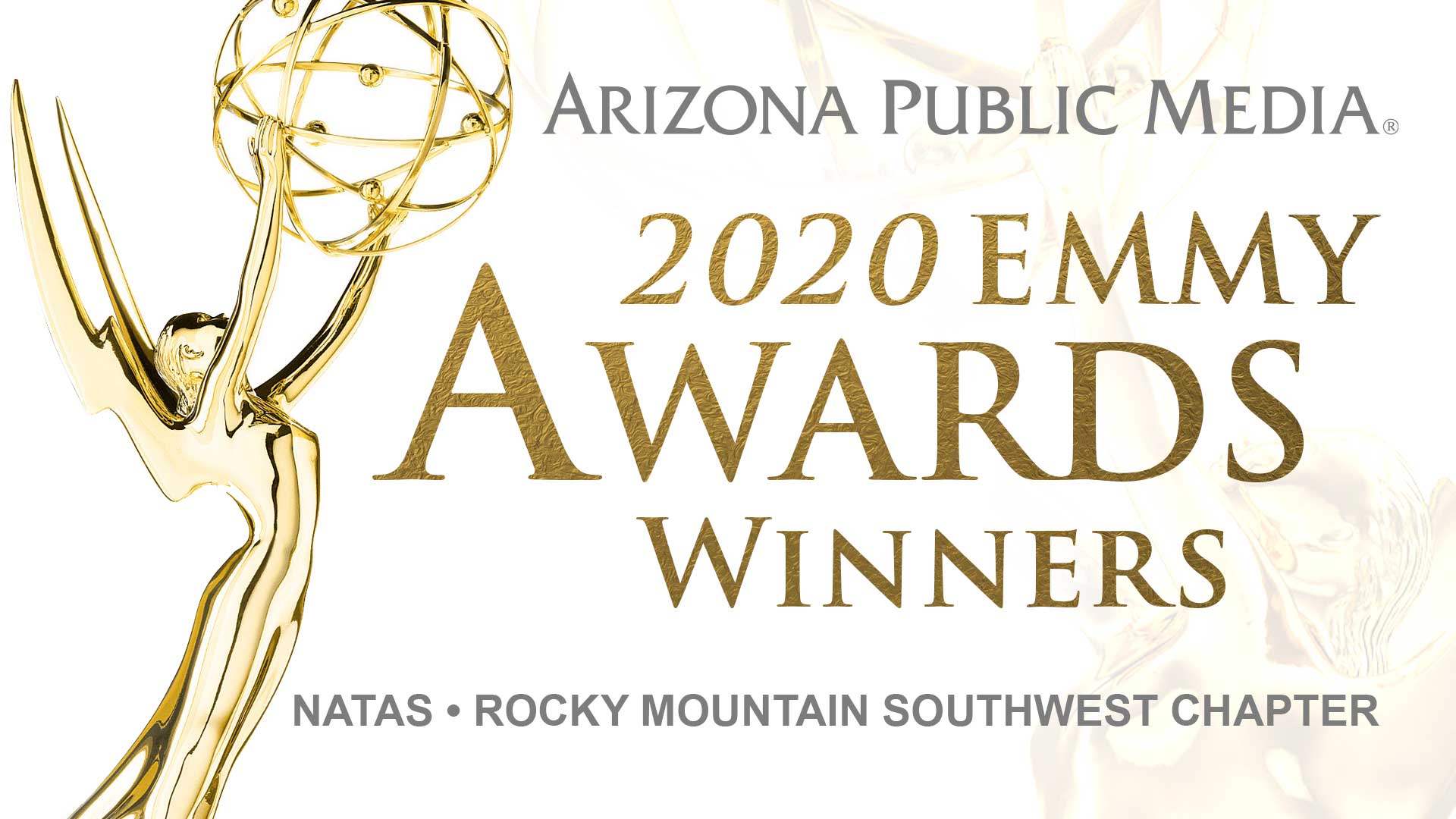 2020 Emmy® Awards
Arizona Public Media staff received eight individual Emmy® Awards for four projects in as many categories from the Rocky Mountain Southwest Chapter of the National Academy of Television Arts and Sciences during a virtual ceremony on September 19. This year's honors include a win for AZPM's special documentary project, The Arizonans, and the second consecutive win for Arizona 360; Arizona Illustrated earned nods in two categories including arts/entertainment and societal concerns.
"I am extremely proud of this year's nominees and winners," said Jack Gibson, AZPM CEO. "The passion and dedication they display in their work enriches our community and uplifts our audiences."
The winners are:
ARTS/ENTERTAINMENT - PROGRAM FEATURE- SEGMENT
Monsoon Chocolate
Arizona Public Media
Andrew Brown, Producer
Mya Long, Editor


HISTORIC/CULTURAL - PROGRAM SPECIAL
The Arizonans - Morris Udall
Arizona Public Media
Thomas Kleespie, Producer
Robert Lindberg, Videographer/Editor


POLITICS/GOVERNMENT - PROGRAM SPECIAL
Border Patrol Chief, New Wall Construction, Flores Settlement Agreement
Arizona Public Media
Kassandra Lau, Producer
Lorraine Rivera, Producer/Host


SOCIETAL CONCERNS - NEWS SINGLE STORY/SERIES/FEATURE/PROGRAM FEATURE SEGMENT
What Remains
Arizona Public Media
Vanessa Barchfield, Producer
Nathan Huffman, Videographer/Editor


This year, AZPM staff received 13 nominations across 8 categories, including a nomination for Overall Excellence.
The nominees, aside from the winners listed above, are:
HISTORIC/CULTURAL - NEWS SINGLE STORY/SERIES/FEATURE/PROGRAM SEGMENT
A Date with Douglas
Arizona Public Media
Tony Paniagua, Producer


MILITARY - NEWS SINGLE STORY/SERIES/FEATURE/PROGRAM FEATURE SEGMENT
Honoring Veterans
Arizona Public Media
Tony Paniagua, Producer
Martin Rubio, Videographer/Editor
Gage Judd, Videographer


PROMOTION PROGRAM - SINGLE SPOT OR IMAGE
La Vaquita
Arizona Public Media
Carolyn Yaussy, Producer


OVERALL EXCELLENCE
Overall Excellence
Arizona Public Media
Jack Gibson, Chief Executive Officer


In the last six years, AZPM staff members have won 65 individual Emmy awards, including the prestigious Governor's Award for the 2016 original documentary Passing On, and the Overall Excellence Award in 2015.
---
About AZPM
  Arizona Public Media (AZPM) is an editorially independent, nonprofit public service of the University of Arizona (UA) and provides three television program services (PBS 6, PBS 6 Plus, and PBS Kids), four radio services (NPR 89.1, Classical 90.5, Jazz 98.1 HD2 and the BBC World Service) and a variety of online program offerings at azpm.org. AZPM is funded through the generous support of annual and sustaining members, the business community through program underwriting, fee-for-service production activities, the Corporation for Public Broadcasting, and direct and in-kind support from UA.   Arizona Public Media® and AZPM® are registered trademarks of the Arizona Board of Regents, which holds the FCC broadcast licenses for all AZPM stations, for the benefit of the University of Arizona. More information about AZPM, including program schedules and Video-on-Demand offerings, can be found online at azpm.org.