Before her death in 1962, Eleanor Roosevelt became a globally-recognized voice for human rights and the advancement of equality.
An avid world traveler, one of Roosevelt's favorite companions during her later years was her granddaughter Nina - the daughter of Franklin and Eleanor's youngest son, John.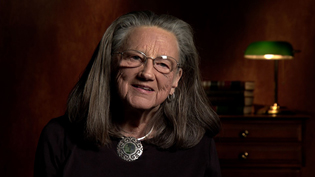 A former first lady and her teenage granddaughter traveling the Middle East without an entourage or Secret Service is difficult to imagine today, but Nina Roosevelt Gibson says it how her grandmother wanted it.
Today, Nina lives in Vail, Arizona. Mark McLemore talked with her about her memories of growing up in one of America's most famous families...
Listen:
About Nina Roosevelt Gibson:
The daughter of Anne and John Roosevelt, youngest son of the former President and First Lady, Nina grew up in Hyde Park, New York on the family farm, Val-Kill. Nina spent time with her grandmother Eleanor at home and on trips to the Middle East, Europe and Canada.
As Nina recalls her 'growing up a Roosevelt,' she states, "I hadn't a clue for the longest time. It was a very long time before I realized. I thought everyone's name was Roosevelt because I saw Roosevelt Boulevard and Roosevelt-that, so I thought it was everyone's name. I don't think that it was until I started traveling with her (Eleanor) that I realized how much of a public figure she was. Certainly people in Hyde Park knew her but I knew everyone else's grandmother too."
These trips with her grandmother included private talks with heads of state as well as visits to the homes of refugees, laborers and farmers. Nina was able to see the impact of her grandmother's interest and efforts for social justice throughout the world.
Nina adds, "Well into her seventies Eleanor Roosevelt was difficult even for me, her teenaged granddaughter, to keep up with. When traveling my grandmother always had a full itinerary which included visiting factories, hospitals, museums, dignitaries, cultural events and most importantly, the people who lived in the towns and villages. Jogging was perhaps the only way most people could match the pace Grandmére kept as her long legs carried her to the most unusual places in search of how people really lived. It was clear to me that Grandmére's attention to details of her surrounding and compassion for the people she met was as natural as her welcoming smile. It was her focus on solving problems for better health, education and basic human rights that fueled Eleanor Roosevelt's incredible energy throughout her life."
Prior to moving to Vail, Arizona, Nina earned her graduate degrees in psychology from the Ohio State University. In 1988 the family moved to Arizona where Nina's husband joined the University of Arizona neuroscience community and Nina began work in the public sector with ADAPT (the regional behavioral health care organization before CPSA, Community Partnership of Southern Arizona.) Under the leadership of the County Attorney Barbara LaWall, Nina became a founding member and Board Chair of the Southern Arizona Children's Advocacy Center. Nina was employed as a psychologist by COPE Behavioral Services but resigned in 1999 to wait for a heart transplant.
Since her transplant in 2000, Nina has assisted transplant services at University of Arizona Medical Center facilitating support groups for family members and caregivers of cardiovascular transplant patients. Additionally, Nina serves on the University of Arizona's Sarver Heart Center's Advisory Board and the Women's Heart Heath Education Committee of the Sarver Heart Center. Nina is a member of both the New Life Society and Unity for Life, organizations that raise money to provide financial assistance for pre and post organ transplant patients primarily in Arizona.
Visit pbs.org for more information on The Roosevelts: An Intimate History.