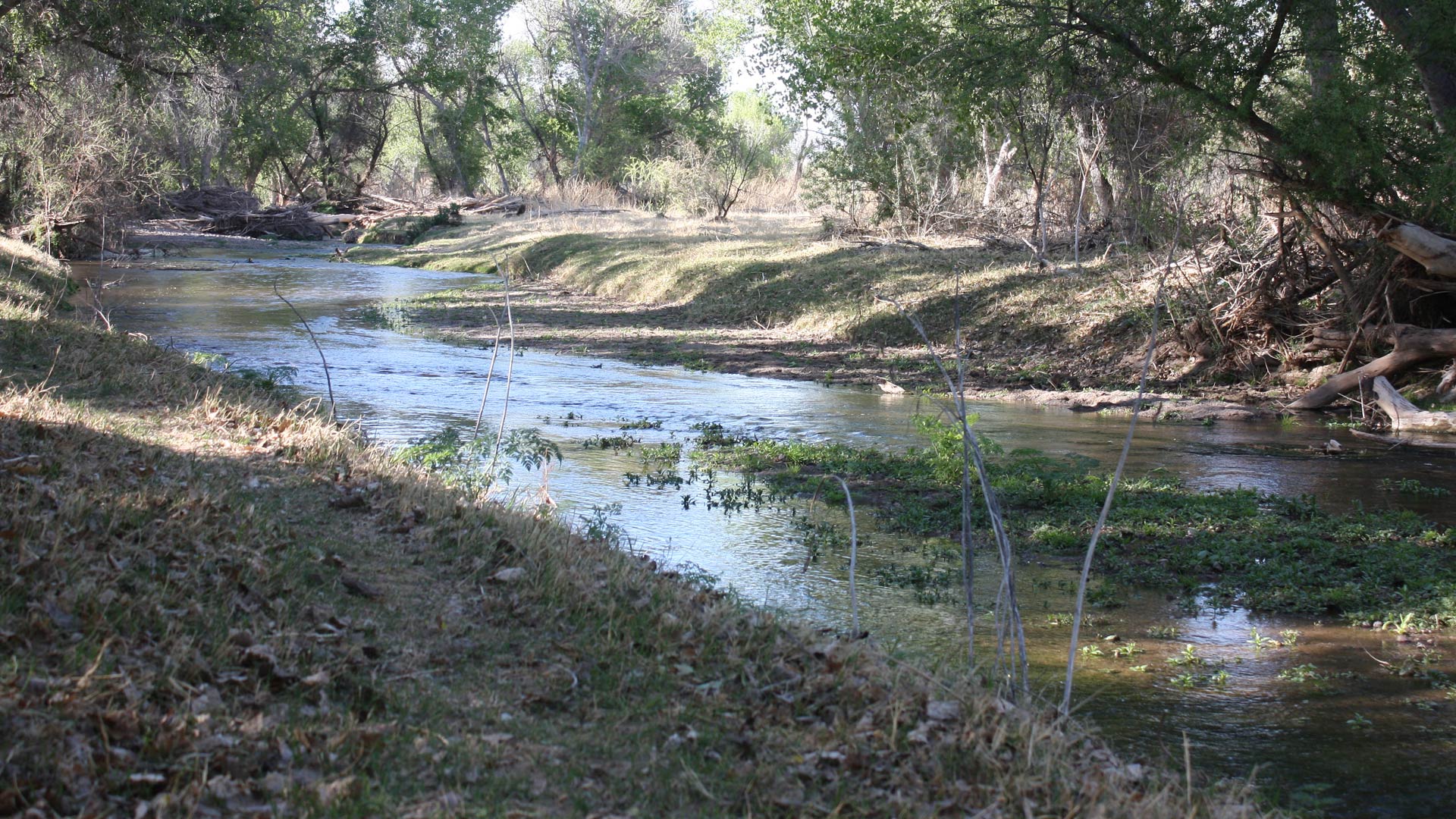 The Santa Cruz River.
Border 2020 Commission
The pipeline leak that spilled sewage into the Santa Cruz River is sealed, but another pollution problem persists, one many other American waterways share.
Contaminants of emerging concern (CECs) are chemicals from drugs and personal-care products that most wastewater treatment plants don't filter out.
"'Emerging concern' is kind of a relative perspective. It usually means that they're not regulated, but that there's things that either might scare people or have preliminary toxicological impacts," said Paul Westerhoff, vice dean for research at Arizona State University's Ira A. Fulton Schools of Engineering.
Westerhoff worked with Jacelyn Rice of Duke University on the study, which appeared online in Nature Geoscience in July.
Some CECs, including estrogenic compounds from products like synthetic birth control, disrupt the hormones of aquatic wildlife, harming reproduction.
"If you look upstream and downstream of a wastewater treatment plant, there's a lot higher degree of feminization downstream," Westerhoff said.
Feminization is more or less what it sounds like: A shift in male biology toward female traits. While some fish are naturally intersexual, in other species this can produce odd outcomes, like testes containing egg cells.
The effects on humans require further study.
Westerhoff and Rice combined several databases from the Environmental Protection Agency, the U.S. Geological Survey and other sources to model the concentration levels of three natural and synthetic estrogens of ecological concern.
"There's over 14,000 wastewater treatment plants that discharge into mostly rivers and lakes around the country, and we wanted to understand how pervasive this problem could be," Westerhoff said.
Treated wastewater provides an important source of stream flow and helps maintain aquatic and riparian wildlife habitats. Wastewater discharges supply more than 50 percent of flow for more than 900 U.S. streams.
The health of creatures that depend on that water — including humans — depends largely on dilution.
"How dangerous something is for, say, a fish in a river in this case, depends upon not only if a chemical is there at a very low level, but what is that concentration?"
Dilution can pose a problem for the Santa Cruz River as it flows north of Nogales because it consists entirely of wastewater four to six months each year.
Similar conditions occur downstream of large metropolitan areas in Arizona: Wastewater makes up the lion's share of the Salt and Gila rivers for large parts of the year, and localized spots of high concentration exist near Verde River communities on the Mogollon Rim.
Westerhoff cited Oak Creek, near Sedona, as another example.
"Any time you have a wastewater treatment plant that discharges into the river, you'll have some degree of exposure to these compounds," Westerhoff said.
The study found that one pollutant's concentration exceeded the federal safety threshold in three-fifths of the 1,000-plus wastewater-fed rivers with pronounced low-flow periods. The other two endocrine-affecting substances exceeded those levels in one-third of such rivers.
The authors expect such rates to worsen under conditions of drought, population growth and climate change. Perhaps ironically, conservation efforts like low-flow toilets could worsen the effect, if bodies continue to produce the same volume of CEC-tainted waste but flush less water with which to dilute them.
Westerhoff hopes the findings will inform a national discussion about America's deteriorating and outdated water infrastructure, preferably one that includes CECs.
"The wastewater treatment plants aren't necessarily designed to remove them to a high enough degree using the technologies that were largely installed in the 1970s."
As CECs gained attention in the past few decades, regulatory mandates have lagged. That poses a problem, since any potential upgrades must compete for tax dollars or federal grants with other demands.
Meanwhile, CECs or no, water infrastructure in the U.S. continues to circle the drain, Westerhoff said.
"The American Society of Civil Engineering gives our water and wastewater infrastructure 'C' and 'D' grades."