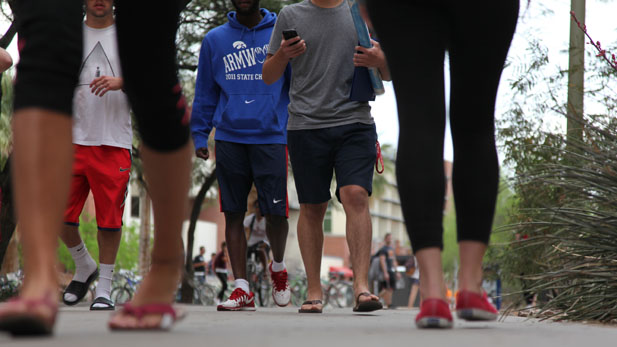 On the University of Arizona campus.

Andrea Kelly, AZPM
The Office of Early Academic Outreach at the University of Arizona is hosting Project Pave the Way, an initiative aimed at young men from local high schools, as a means to encourage low-income, first-generation and minority male students to further their education.
Nearly 300 freshman and sophomore boys will attend workshops designed to help put them on the pathway to college.
Bryant Valencia is in the Office of Early Academic Outreach. He says that these young men often face obstacles that may be non-factors for other kids.
"If they didn't eat that day, that's what they're focused on. Or maybe if they're not feeling loved or feel like they belong, for example, you know that school isn't going to be their number-one priority for the day," he says.

The workshops include planning for the future, emotional expression through poetry and rap, and the interplay between masculinity and expectations.
Black and Latino men are less likely to attend universities than white men, and women of all races for a whole host of reasons: disparities in discipline that lead to involvement in the juvenile justice system, disproportionate special education referrals, and the simple fact that black and Latino males are more likely to start at community colleges.
Valencia says that in addition into learning specific skills during the workshops, he hopes that students take away something bigger.
"My goal with this is always to just to encourage probably more of a positive environment so they can essentially raise their aspirational capital," he says.
That's the ability to maintain hopes and dreams for the future in the face of real and perceived barriers.