A bell is rung Jan. 8, 2020, commemorating the 19 people who were killed or wounded during the mass shooting in Tucson on Jan. 8, 2011.
Christopher Conover/AZPM
A bell tolled outside the old Pima County Courthouse for each of the six people killed and 13 wounded in the Jan. 8, 2011 mass shooting in Tucson.
The shooting took place during a Congress on Your Corner event held by then-U.S. Rep. Gabrielle Giffords. She was wounded in the attack and now suffers from aphasia and other complications.
Her husband, Mark Kelly, said it is a sad day for his family but the anniversary also brings hope.
"I think folks here in Arizona should view it as this community here in Tucson is incredibly strong and resilient, and we also acknowledge our past and things that have happened in our history, and we also look ahead to the future," Kelly said.
Kelly is running as a Democrat for U.S. Senate in Arizona.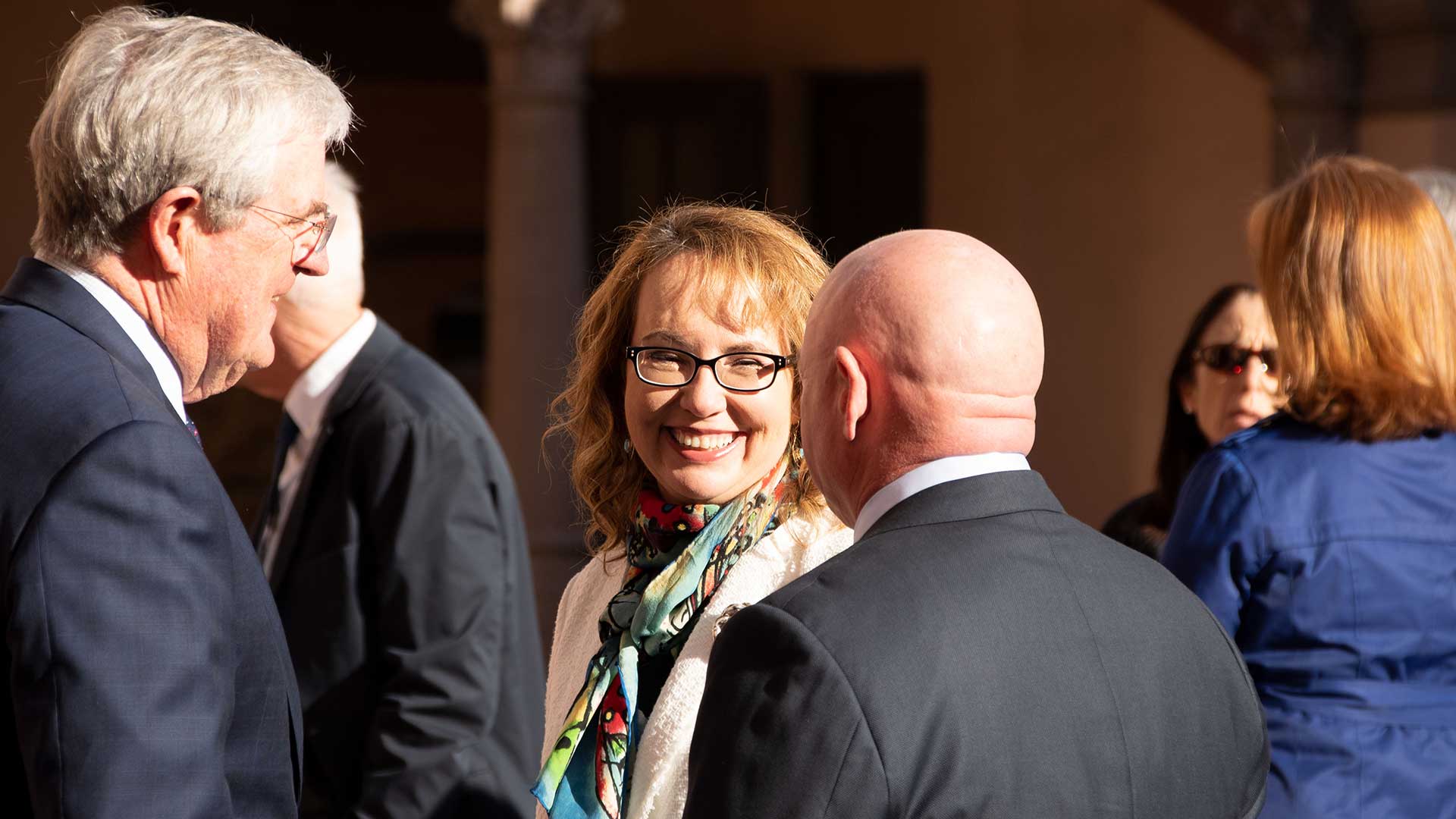 Gabrielle Giffords, Mark Kelly and Chuck Huckelberry speak before the ceremony marking the ninth anniversary of Tucson's Jan. 8, 2011 mass shooting.
Christopher Conover/AZPM
The message of hope was echoed by many at the ceremony. Former Congressman Ron Barber was wounded during the shooting. He told the crowd that it is important to remember the outpouring of love from the Tucson community.
"Tucsonans did not let this violence define who we are. Instead, we stoop up three memorials. Tucsonans donated to the Together Fund that helps survivors with counseling and other support. They donated to the newly formed nonprofits that worked to address bullying, mental health issues, to build playgrounds, and to encourage all to enjoy outdoor activities," Barber said.
A permanent memorial is under construction behind the old courthouse. It will be dedicated on Jan. 8, 2021 to mark the 10th anniversary of the shooting.
Arizona's congressional delegation reached across party lines Wednesday to sponsor legislation in the House and Senate that would make the Jan. 8 Memorial a national memorial.
The move, which is spearheaded by Rep. Ann Kirkpatrick and Sens. Martha McSally and Kyrsten Sinema, would put the memorial under the National Park Service.
All members of Arizona's congressional delegation, except Republican Rep. Paul Gosar, are listed as co-sponsors of the bill.