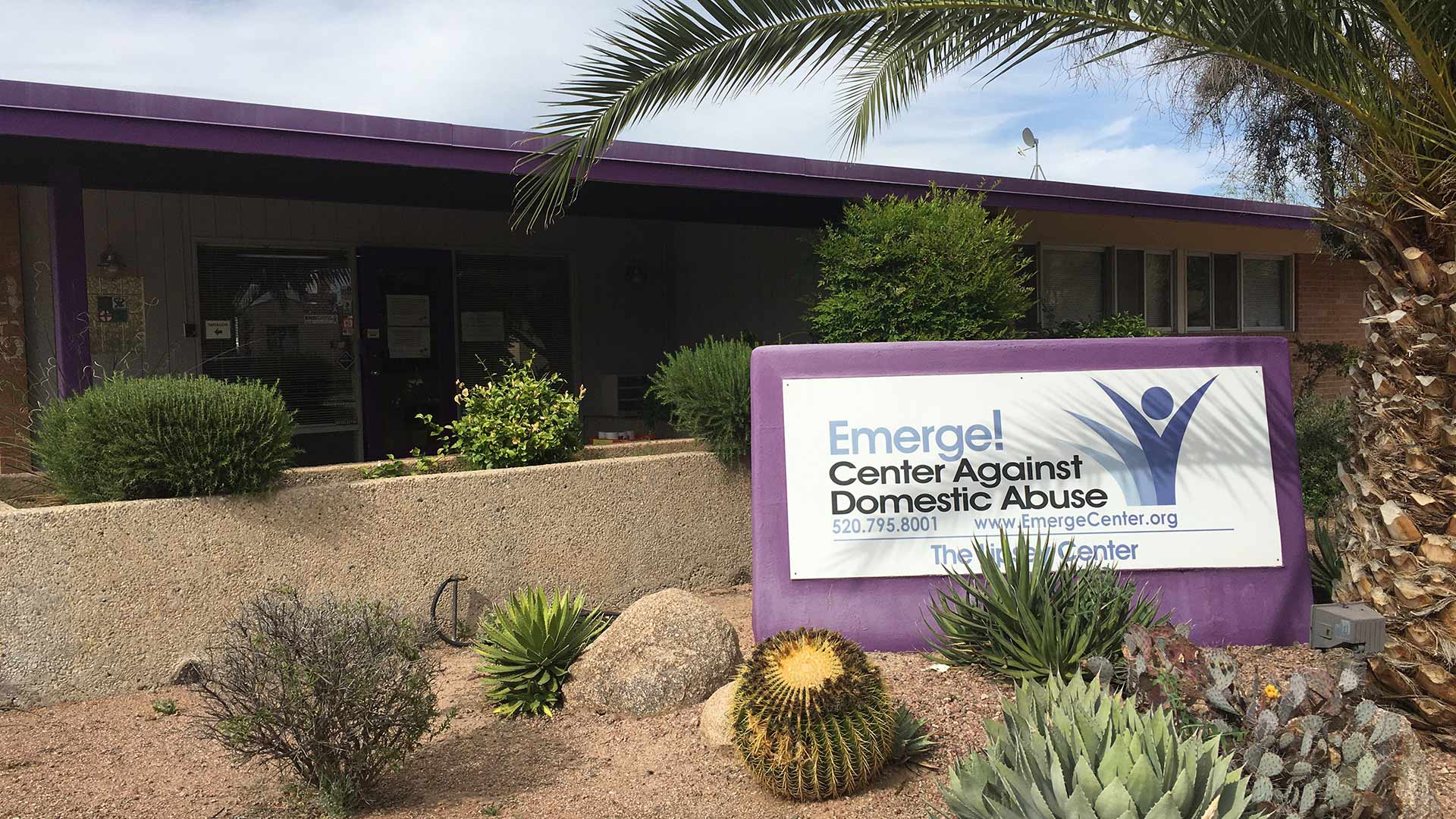 The administration building for Emerge! Center Against Domestic Abuse.
Courtesy of Ed Mercurio-Sakwa
A positive COVID-19 test result will not prevent people experiencing domestic violence from getting emergency shelter or other forms of support from one Tucson center.
During the pandemic, Emerge! Center Against Domestic Abuse has continued to operate its hotline and emergency shelter program. It was open before, during and after Gov. Doug Ducey's stay-at-home order that aimed to curb the spread of COVID-19 between Arizonans. Emerge! provides services like information surrounding domestic abuse, safety planning and informal legal services.
Emerge! CEO Ed Mercurio-Sakwa said for the last several months, it has housed about 50 people in its emergency shelter program every night. He said this is possible because of the shelter's shift to more non-congregate or more solitary living.

"We're not going to let somebody's status with COVID or exposure to COVID prevent them from getting the help that they need," Mercurio-Sakwa said. "We're going to find a way around that, and we're going to assist them along that path to the extent that they want us to."
None of participants in the shelter have tested positive for COVID-19 at this point, said Mercurio-Sakwa. If someone who has tested positive for COVID-19 or is symptomatic needs emergency shelter, he said Emerge! will accept them right away into one of its facilities that allows people to have their own space. He said it plans to require people to test negative before they are allowed to interact with others, but if a test can't be acquired, it'll accept an extended self-quarantine.
Mercurio-Sakwa said Emerge! staff will also help locate a testing site, transport people there or help pay for the test. He said Emerge! will provide telephonic services to those who need to live in one of these isolated shelters and help them get the food or other resources they need.
"If we were exclusively relying on our normal communal shelter facility, our ability to bring somebody in with COVID would be nonexistent, and we would have major struggles, if someone developed COVID during their time in that communal setting, because it's just not possible to fully isolate in that situation," said Mercurio-Sakwa.
He said they have had some "close brushes with COVID."
"We've certainly had staff members and participants alike, who have either gotten COVID or are living with somebody who has COVID or in close proximity with someone with COVID," Mercurio-Sakwa said.
He said they're enforcing quarantines with employees until people test negative for COVID-19.
Its hotline received approximately 20 calls a day before the stay-at-home order began in late March. That number dropped to 16 calls a day during the order, and now it's slowing increasing.
"The stay-at-home order, while very appropriate for limiting virus spread, is what increases risk for people whose greatest danger is their abusive partner that is in that home with them," Mercurio-Sakwa said.
He said a four-call difference may not seem like much, but it adds up over the course of a year — that's at least 1,460 calls that may not have been made.
He also added that right now, Emerge! doesn't have the resources to keep up with all the additional facilities, but it has applied for more funding. He said he hopes with additional funds it can continue to provide safe shelters for people experiencing domestic violence until Americans get a vaccine.
"The pandemic is going to drastically change sometimes what, but more so, how we do what we do, but it will not stop what we do, and it will not stop people's ability to get the help that they need," Mercurio-Sakwa said.