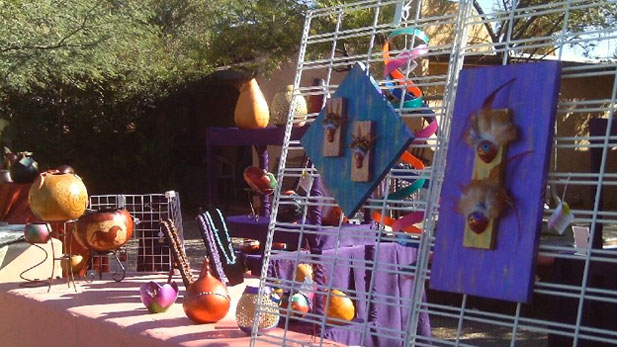 PHOTO: AZPM
Artwork on display at Third Saturdays at the Many Hands Courtyard in Tucson.
Cindy Haas, co-owner of the Many Hands Courtyard, has made it her goal to transform her cluster of shops on 1st Avenue into an artist community.
To aid her effort, Haas began "Third Saturdays", a marketplace for artists to produce, show, and sell their artwork in the renovated courtyard.
"One of the biggest supporters of Third Saturdays have been the gourd artists," said Haas in a recent Arizona Illustrated interview.
Along with promoting diversity in Tucson's local art community, Third Saturdays will provide a venue for fundraising for different organizations in the community, with the next fundraiser going to support Blue Star Moms.
The fundraising efforts give local shoppers and artists alike a way to contribute to the community, Haas says.
"Most artists like to give back," she says, "and most of us don't have the money or the means to do so."
Many hands Courtyard is at 3054 N. First Ave., and the Third Saturdays showing run from 9:30 a.m. to 3:30 p.m.