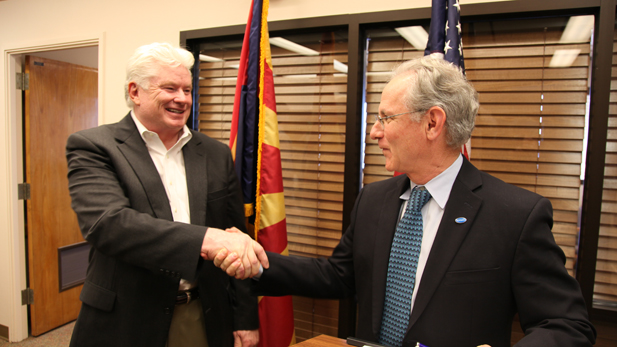 PHOTO: Martin Rubio, AZPM
Tucson Mayor Jonathan Rothschild and Rio Nuevo Board Chairman Fletcher McCusker celebrate the settlement of all litigation between the city and the board.
With the stroke of a pen, Tucson Mayor Jonathan Rothschild settled the pending litigation between the Rio Nuevo District and the city. The 16-part agreement includes $1.1 million from Rio Nuevo for the Mission Gardens project on the West Side of downtown as well as $2.2 million Rio Nuevo owes to the city for bond payments.
The big dollar amount in the settlement is $6 million that the district has agreed to pay for maintenance, repairs, and upgrades of the Tucson Convention Center. The board will also have the option of taking over management of the TCC.
Two years ago, the Legislature required Rio Nuevo to fix up the TCC and build a downtown convention hotel. Fletcher McCusker, the chair of the Rio Nuevo Board, said right now the board is looking at two or three viable proposals for a hotel.
Even though the Legislature narrowed Rio Nuevo's scope in recent years to just the convention center and a hotel, the state was not involved in the months of negotiations to end the pending litigation between the board and the city. The legislature was notified when the settlement was finalized, Rothschild said.