It was 2009, and Glen Lacroix was ready for an ending.
"There was many a time when I was on the highway and—I drove a small little sports car at the time—I would say to myself or think to myself: all I need to do is step on the gas, let this thing run out to top speed and flip the wheel and I'd be gone," he recalls. "And it's just that simple, and I wouldn't have to worry about this stuff anymore."
Lacroix had served for more than a decade as an Army intelligence professional, and prided himself on his ability to keep cool during challenging situations.
But now he found himself struggling. He was devastated by the loss of his marriage and career, and haunted by the past.
"I was having a hard time dealing with a lot of the things that had happened when I was in the military, the things I'd done ... in the name of my country," he says. "I was in a bad place in my mind and my body where I basically couldn't function anymore."
Lacroix was in a place many veterans have come to know. The number of service members attempting and completing suicide has been rising for the past ten years.
The Department of Veterans Affairs now estimates that 18 veterans die by suicide every day—far more than are killed in combat.
For Dr. Michael Marks, lead psychologist of the Southern Arizona VA Health Care System, it's a problem without an easy cause, or an easy solution.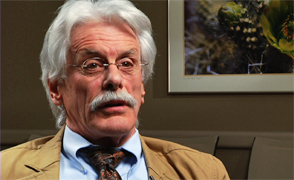 Dr. Michael Marks, lead psychologist of the Southern Arizona VA Health Care System, has been working with service members and their families for more than 30 years.
"There's a bunch of different factors" that affect suicide risk, he says. "Probably the biggest overreaching one is military culture ... there's this whole ethos that if you have problems you just bury them and get on with your job."
Post traumatic stress, traumatic brain injuries, drug and alcohol abuse, financial or relationship troubles, and the difficulties of multiple deployments or transitioning back into civilian life can all factor into suicide risk.
Fear and isolation are also part of the problem, Marks says. In more than 30 years of working with the military, he's seen many service members forego help because they worried it would ruin their careers.
Marks says the military is trying to change its culture so more veterans and service members will get the help they need. But the stigma associated with suicide and mental health issues is hard to shake, whether in the military or in the civilian world.
And that's why Nicola Winkel, a community liaison with the Arizona Coalition for Military Families, is on a mission.
Inspired by the experiences of her husband, a veteran and mental health clinician who served in the Marine Corps and the National Guard, Winkel is teaching Arizonans military mental health first aid.
"Mental health first aid is being used across the country to equip our communities to respond to people experiencing mental health crises," Winkel says. "And what we're doing now is adapting it for use with service members, veterans and their families."
Winkel recently led a pilot training that drew 35 attendees, many of them community health care providers who are eager to learn the dos and don'ts of helping clients who are part of military culture.
"The more people we have who are knowledgeable and have confidence to intervene ... the better off we're going to be intervening in the lives of people who are suicidal," she says.
For Lacroix, who is now the student director of the University of Arizona Veterans Education Transition Services, finding people who were willing to intervene gave him a chance at a new beginning.
"When I came to the university and found the VETS office ... there were a couple of people in there who helped me out," he says. "They could see I needed help."
Fellow veterans helped him enroll for classes, secure his GI Bill benefits and find a new sense of community and purpose.
"I know that if I'd walked into that office and they'd turned to me and said, 'It's too late, the semester's started, there's nothing we can do,' I wouldn't be here right now," he says.