Gov. Jan Brewer Thursday signed emergency legislation appropriating $4.4 million for the state to hire 50 caseworkers for Child Protective Services.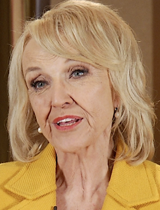 PHOTO: AZPM
Gov. Jan Brewer.
The measure had unanimous approval in both houses of the Legislature after Brewer called for it in her State of the State speech.
She and others have said the agency is overwhelmed with child abuse and foster care cases and simply cannot handle the caseload with its current staffing. The Associated Press reported that the number of reported child abuse cases in the state has risen 32 percent in three years and the number of children under state supervision away from their parents has risen 40 percent.
Brewer's budget proposal further called for $67 million for 150 more CPS workers and for foster care and other new child protection spending for the next fiscal year. That will be considered by the Legislature as part of its routine budget creation.
"This bill is not a cure-all for the child-safety problem in our state, but it will bring immediate help to the children who need it most," Brewer said in a press release after she signed the emergency bill.
As with many state agencies, CPS took significant budget cuts in the last several years. Brewer's office said that based on the agency's appropriation, CPS is currently at full staff.