The Arizona Geological Survey has been operating a map store at its downtown Tucson location since 1995. But what was once a dusty, low-lit room full of creaky map cabinets is now a bright, accessible outlet for all things Arizona.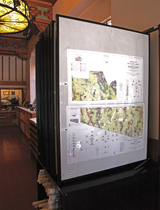 PHOTO: Mark Duggan
The store stocks maps from many agencies, including geologic maps from the state survey.
Now called The Arizona Experience Store, it stocks many different items related to the state - from books on history and nature to pieces from Arizona artisans. And, of course, maps. More than 2,000 from the U.S. Geological Survey, National Geographic, U.S. Forest Service, Bureau of Land Management and others.
The store is also an authorized dealer of Arizona Game And Fish hunting and fishing licenses and national park and forest passes.
Randi Bellassai, Sales and Marketing Manager for the Arizona Geological Survey, says they remodeled the space earlier this year. First, they let in more natural light. Then they removed the old map cabinets and replaced them with modern shelving. The store re-opened in July.
Bellassai says the store has also become an Arizona Information Outlet, with free publications from more than 60 different local, state and federal agencies.
The biggest selling maps remain on the sales floor, but the rest are now kept downstairs, where staff can get to them easily. And since the the store is run by the survey, it still has a distinctly geologic bent to it, with plenty of geologic maps, field guides and mineral specimens.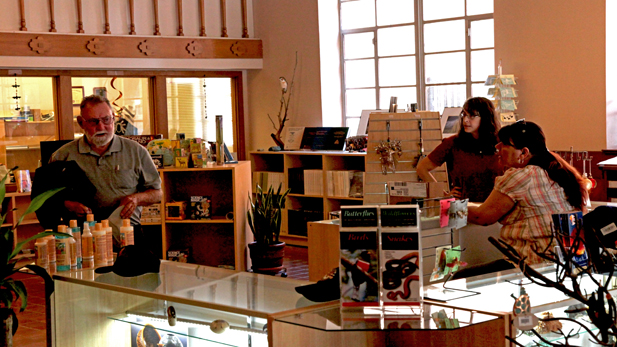 PHOTO: Mark Duggan
An unidentified customer orders maps from AZGS Marketing Director Randi Bellassai and AZ Experience Store manager Michelle Harriman