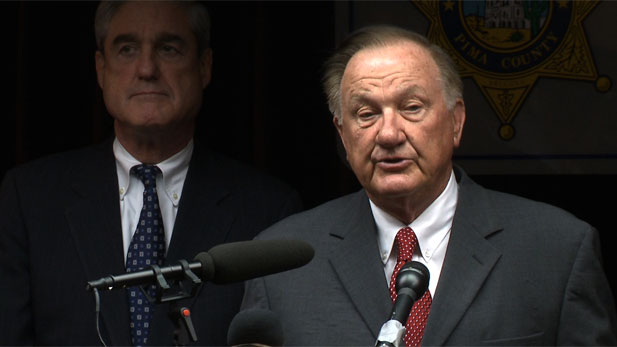 PHOTO: AZPM
Pima County Sheriff Clarence Dupnik (right) and then FBI Director Robert S. Mueller III, at a news conference following the Jan. 8, 2011 shooting in Tucson.
It's been almost two months since the most controversial part of Arizona' immigration law, known as SB 1070, went into effect, and in Pima County, the sheriff said it has been business as usual.
"When it comes to SB 1070 it has had virtually had no effect on us, and the reason for that is because we've been enforcing the federal law all along," Sheriff Clarence Dupnik said. "We arrest more illegal aliens than any other state or local agency in the country."
The 2B section of the law was upheld by the U.S. Supreme Court in June and requires local law enforcement officers to question a person's immigration status if they suspect the person is in the U.S. illegally.
Dupnik said his officers have always had the option of calling the Border Patrol.
"We are in the heart of the funnel from Mexico into the Untied States so we get a whole lot of them, and our people can differentiate very quickly who is illegal and who is not," Dupnik said. "It's not a difficult issue. Most of the people law enforcement officers stop and ask them, tell you that they're here illegally."
The effect of SB 1070 has been felt in the Sheriff's Department budget, Dupnik said, with the cost of the required training for his deputies very high. But he did not know the specific cost.