What appeared to forecasters a few months ago to be a resurgence of El Niño has turned out to be a bust. The latest report from the Climate Prediction Center, released November 8, says that mostly neutral to weak El Niño conditions exist in the Pacific Ocean.
Both El Niño and La Niña are related to water surface temperatures in the eastern Pacific and can affect weather patterns over a large area.
The report says that sea surface temperatures seem to indicate a weak El Niño. But winds along the surface are consistent with a neutral pattern. The report's conclusion? Forget about an El Niño winter, and count on an average one. 'Neutral' conditions are favored for the Northern Hemisphere's 2012-2013 winter.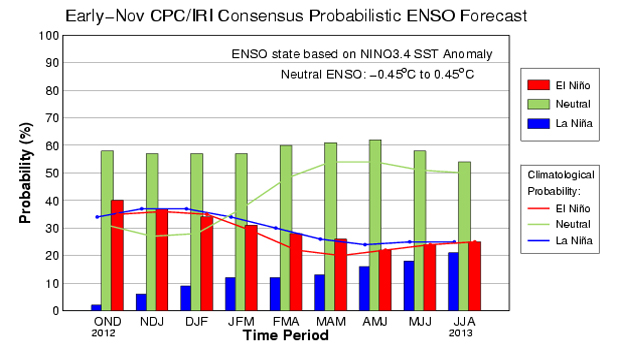 PHOTO: International Research Institute
The International Research Institute's El Niño/La Niña/Southern Oscillation forecast for winter 2012-2013.
This winter will be the first since 2009 where neither El Niño nor La Niña conditions prevail. In such years, temperatures and rainfall are about average. The last two winters were influenced by La Niña and were drier than usual. The last El Niño winter, when we receive above-average rainfall, was 2010.
More resources:
Learn about the ENSO Cycle that produces both El Niño and La Niña
National Weather Service Tucson
Climate Prediction Center