The City of South Tucson owes Pima County about $1.9 million for an overdue jail bill, with almost $500,000 of that in interest. But this summer the city began making payments, and the county is considering whether to slash the debt outright.
Starting in September 2007, South Tucson couldn't pay its bill for the jail costs of people police arrested on city-code misdemeanor violations—like stealing beer from the Circle K, drinking in public, or trespassing.
City Manager Enrique Serna says the Great Recession froze revenue, and Pima County Administrator Chuck Huckelberry agreed.
"They're [South Tucson is] very heavily dependent on sales tax revenue, and everybody's sales tax revenue tanked in the beginning of the Great Recession. And it really hasn't returned. So I think that's the problem," Huckelberry said.
But other large counties in Arizona, including Pinal and Maricopa, report no outstanding debts from municipalities. And smaller counties often deal with jail costs through alternate means, including county bonds or just not charging other jurisdictions at all.
South Tucson began paying its bill in May 2012: three payments total about $173,000, records show. City officials said they plan to continue making regular payments on a jail bill that averages $25,000 a month.
The Pima County Board of Supervisors will likely decide how or whether to reduce the total jail debt—including the interest and possibly the principal debt, Huckelberry said.
"We will ultimately take this matter before the Board of Supervisors in November or December of this year to get an official ruling on the interest or whether or not there should be any further reduction," Huckelberry said.
South Tucson officials have argued that they shouldn't foot the entire bill. A recent city report showed 84 percent of those city police arrest don't live within the one-square-mile city, which is surrounded by Tucson. Many of those misdemeanor violators are homeless people with only a general delivery address.
South Tucson argues in its report that the city provides for more than their own citizen's needs. And the county acknowledged the same thing in 2011 in a report compiled by its behavioral health division, calling the city a "walking campus for the homeless seeking services."
"Some factors influencing the City of South Tucson's jail costs are beyond the City's control," the South Tucson report stated.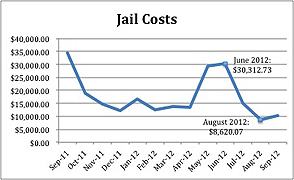 City of South Tucson jail costs over the past year.
The report asks the county "to forgive 50 percent of the accumulated debt," beyond the idea of reducing the interest, something that's been acknowledged as an option between the city and the county for well over a year.
"That's a contention I felt necessary to make, mainly proclaiming to the larger community that they pause and reflect on the kind of folks they're dealing with, because of where they are," Serna said. "If the facts don't resonate with those folks, we're going to just have to continue to pay our bills."
City Planner Mick Jensen contends that looking at reducing the principal debt should still be on the table.
"If you can accept the argument that we are serving a population that is not a South Tucson population, it's a countywide, metro-wide population, because the services are here, if you can accept the argument and apply it to the interest, why couldn't you accept that argument and apply that to the rest?" Jensen asked. "It's the same issue. We've been carrying that burden for many years, that's why the bill's so high."
County Administrator Huckelberry isn't so sure that principal will be discussed, though with recent efforts by the city he is more hopeful.
"That is a discussion that obviously South Tucson would like us to have. And I can understand their position," Huckelberry said. But that needs to go before the board, he said.
"We need them to weigh in on exactly how much to forgive. Because a lot of it's going to depend on how well South Tucson [does] and how much of an effort they're making to reduce their arrest rates and transfer to the adult correction center."

South Tucson Police Chief Richard Munoz says the city is making a "good faith" effort, with a slew of new policy changes in place.

City research showed the problem was not just about arrests, but also about court procedure and a lack of communication with the community. And, the report added, past attempts to reduce costs made the situation worse.
Munoz said one strategy, of "field-releasing" people with citations instead of taking them to jail, wound up leading to more arrests long term, because people weren't showing up for their court dates.
That led to warrants for arrest, which led to more people booked in jail, Munoz said.
And so the debt grew.
After city officials realized this was happening, they quashed almost 100 outstanding warrants, many of which were years old.
But that wasn't the only problem. The city also tried to restrict access to the business district for repeat offenders. Those who violated this order wound up in jail, too.
While this policy remains in place, police have stopped arresting people just for violating these restrictions, and many warrants related to this policy have been quashed, Munoz said.
Prosecuting theft at one Circle K on South Sixth Avenue also cost the city a lot of money. South Tucson Police Detective Billy Lackey said the solution was a little counter-intuitive compared to what police usually do.
"Basically what we're taught as police officers is you see a crime, you arrest the person, you put them in jail, you make society safe. That's what we're taught to do. South Tucson can't afford that. We're going bankrupt," Lackey said.

Police met with Circle K officials, had them take beer off the floor, made officers visible, and the number of thefts dropped, Lackey said. Police called it a "problem solving approach to crime." "We were having like 50 shoplifting a month. In August we had 11. Because of the stuff we did with Circle K, collectively what we did was we had a problem, crime, we met with the community, and we basically have solved that problem," Lackey said.
In spite of the past struggles, South Tucson city officials are hopeful they can get rid of their debt. Over the long term, the city hopes to establish diversion programs and a community court to reduce cost even more.
Pima County Administrator Huckelberry says the Board of Supervisors will likely consider cutting the debt at its Nov. 20th meeting.
Jail Bill:
September 2011: $34,583.28
October 2011: $18,854.20
November 2011: $14,565.05
December 2011: $12,198.71
January 2012: $16,531.54
February 2012: $12,620.81
March 2012: $13,767.00
April 2012: $13,290.10
May 2012: $29,278.45
June 2012: $30,312.73
July 2012: $15,121.87
August 2012: $8,620.07
September 2012: $10,277.41