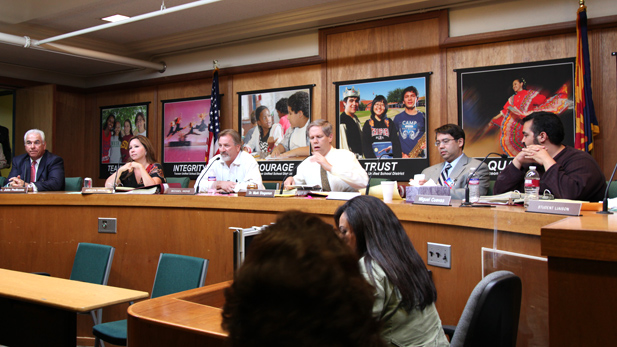 PHOTO: Fernanda Echavarri
TUSD's superintendent John Pedicone, with board members Adelita Grijalva, Michael Hicks, Mark Stegeman, Alexandre Sugiyama and Miguel Cuevas
The Tucson Unified School District has set the criteria for school closures as part of its School Master Plan to fix a $17 million deficit.
TUSD's governing board unanimously approved the criteria that will be used to choose which schools should be considered for closure. The list was submitted by board member Mark Stegeman, a professor of economics at the University of Arizona.
The list of no more than 10 candidates for school closures, provided by TUSD, is based on the following:
High cost savings, after accounting for likely enrollment losses, condition of the school, required renovations at receiving schools, and increased transportation costs.


Low academic performance, especially taking into account the demographics of the student population.
 



Lack of success in attracting families, based on enrollment trends and the attraction/flight ratio. 
 


Weak prospects for turnaround in enrollment and academic performance, based on current and foreseeable assets.

Good prospects for retaining students, based on the strength of the receiving schools and the weakness of competition from charter schools, private schools and other districts. 



Preservation of unique programs and activities, if there is strong demand for those programs. 



Likelihood of reducing or at least not exacerbating ethnic imbalances within schools.


High likely value of the site in an alternative use.


Easy transitions for families to high performing nearby schools.

Considerable distance from the sites of recently closed schools.

Staff must include a report with detailed information for each of the conditions by Friday, said TUSD's spokeswoman Cara Rene.
The last time the district closed schools, parents, staff, teachers and members of the community spoke out against the closures and said they were told of the closures too late.
That's why, Rene said, this time the district wanted to start the process early and consider all its options when fixing the budget.
"Everything is on the table at this point," she said. "Cuts in administration, program reductions, staff reduction and then, of course, school consolidations."
For months TUSD has been working on a School Master Plan to ease the budget deficit through town halls, focus groups and surveys "to get the community's viewpoint and ideas," Rene said.

"The scenario most supported by the community input allowed for funding vision options that would redirect resources toward creating high-performing classrooms through the district," she said.
The governing board will review the list of schools at its next meeting Nov. 20, where the public will have the opportunity to comment.