Last month, the earth underneath parts of eastern Arizona did a lot of shaking. But few people on the surface felt it. A so-called "swarm" of minor earthquakes happened in October in Greenlee County, about 25 miles northeast of Morenci, Arizona.
The largest quake had a magnitude of 4.1 and numerous others were in the 2.0-2.5 magnitude range.
The Arizona Geological Survey is monitoring the largest quakes with a network of seismometers, but they lack the resources to locate the smaller ones.
AZGS Research Geologist Jeri Young says a one-time donation is keeping the network running. But the money runs out in 2013.
The area around the towns of Morenci and Clifton is considered by geologists to be seismically active. According to prediction models from the U.S. Geological Survey, there's a 20% chance of an earthquake with a magnitude 5.0 or larger happening within 30 miles of the two towns in the next 25 years.
More resources:
AZGS "Arizona Shakes" earthquake information page
More about the October 2012 earthquake swarm near Morenci
Read the Arizona Geological Survey's
azgs-earthquake-book: View at Google Docs | Download File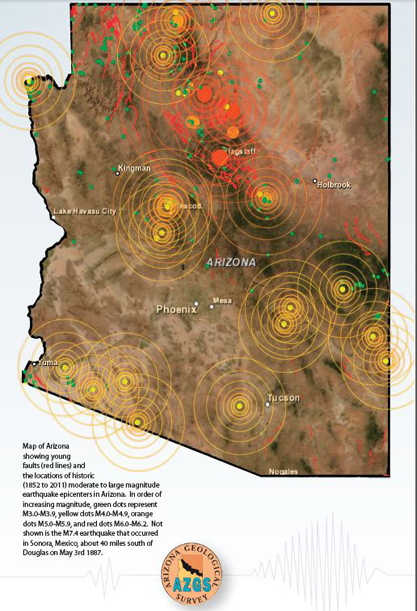 PHOTO: AZGS