Late vote counting pushed the city of Tucson's Proposition 409 over the top nearly two weeks after the election, giving the city approval to borrow $100 million for street maintenance and repair.
City officials declared victory Monday, and voter approval allows the city to issue bonds as a way of raising money to fill potholes and other patch and repair the city's deteriorating streets.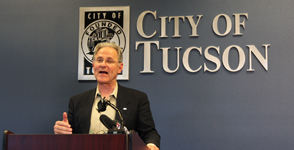 PHOTO: Christopher Conover
Tucson Mayor Jonathan Rothschild
"Yes" votes for Proposition 409 totaled 72,483, and "no" votes totaled 71,530, a 953-vote margin, or six-tenths of one percentage point.
The city pushed the borrowing saying there was no other money available to make needed repairs and that the state Legislature, to balance its budget, took away millions that had in the past gone to local governments for transportation work.
Opponents said the city has a bad record when it comes to fiscal management, including a recent scandal in which several managers and employees in the city street maintenance operation were fired or disciplined for using public resources for private business and personal gain.
Mayor Jonathan Rothschild said at a news conference Monday that work will begin right away on planning for maintenance and repairs that will take about one year to begin rolling out and will cover work for the next five years.