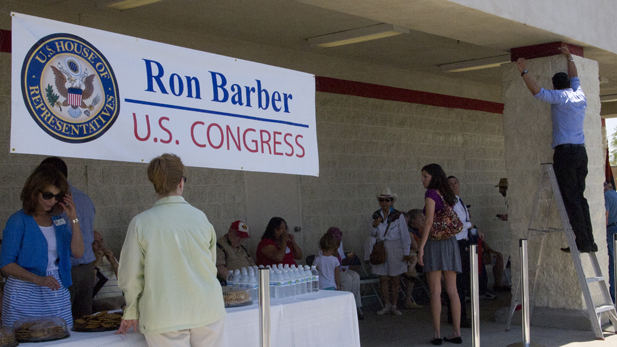 PHOTO: Andrea Kelly
Staff from Congressman Ron Barber's office set up for his first Congress on Your Corner event June 23, 2012.
Arizona's newest Congressman, Ron Barber, held his first public event Saturday since his election to replace former Congresswoman Gabrielle Giffords.
Barber met with constituents outside of a Tucson grocery store, just like the meeting at which six people were shot and killed a year and a half ago.Barber and Giffords were among those wounded in the shooting at the last Congress on Your Corner event.
He kept the same format as Giffords' 21 previous public constituent meetings, right down to the name. A line of district residents had the opportunity to meet with their federal representative one-on-one for a few minutes.
About 300 people waited to speak with Barber in the midday Southern Arizona heat, said Mark Kimble, a spokesman for Barber's office. The turnout meant the event was extended from the scheduled hour and a half to nearly three hours.
One of the people waiting to speak to Barber was Di A'Willis, who wanted help getting approved for Section 8 housing. She hoped to end a years-long struggle for approval.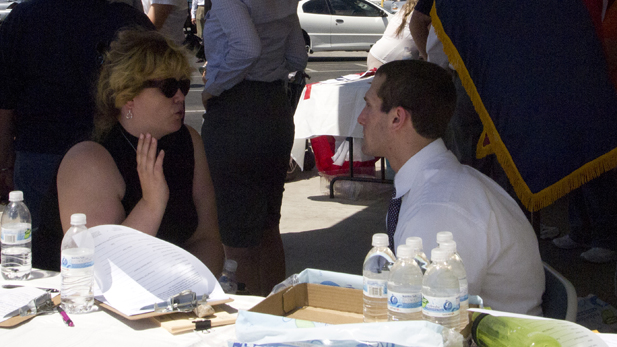 PHOTO: Andrea Kelly
Di A'Willis speaks with a staff member from Congressman Ron Barber's office. She attended Barber's first Congress on Your Corner event.
"This election was really important because I was waiting for the next Congressperson to get into office just so I could go ahead and address them on Section 8," A'Willis said.
After speaking with Barber, she met with one of his staff who works on constituent services, and she says she will set a time to meet with them to provide more detail. She considered her experience useful.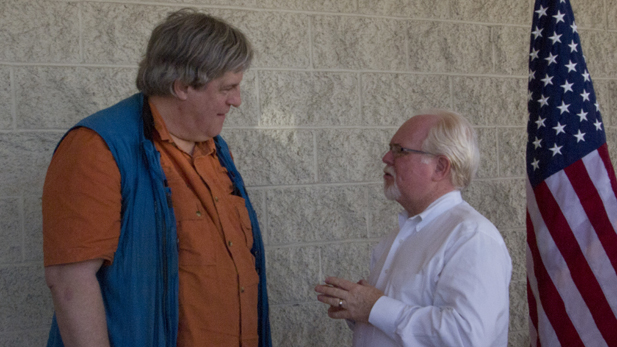 PHOTO: Andrea Kelly
John Hertig speaks with Ron Barber at Barber's first Congress on Your Corner event, June 23, 2012.
John Hertig said he wanted to find out whether Barber planned to do anything about President Barack Obama's executive order to allow children who came to the U.S. illegally at a young age to avoid prosecution.
After he met with Barber, Hertig said he didn't really get an answer to his question about the executive order for young undocumented immigrants, but he said he was satisfied to hear there is a vote coming up in Congress about the President's decision to exert executive privilege to withhold documents from Congress related to the Fast and Furious gun-walking scandal.
Several people who were at the January, 2011 Congress on Your Corner came to Barber's event, including others who were shot, such as Giffords staffer Pam Simon, and people who helped subdue the accused gunman, Jared Lee Loughner, at the scene. They included Roger Salzgeber and Patricia Maisch.
Barber said he invited them to attend and gave them early notice of the event. He said they were connected by the shooting.
The local police presence of uniformed, and non-uniformed officers was obvious, and attendees said they were aware this was the first Congress on Your Corner since the shooting, but weren't concerned for their safety.
All elected officials have to be smart about security at public events, but it's important to meet with district residents, Barber said.
"You cannot serve the people of Southern Arizona or any district if you don't hear what they have to say, and this is one of the best ways to do it," he said.
People raised concerns about veterans issues, border security, middle class economic issues and environmental protection, Barber said.