Biologists for The Peregrine Fund say they found a condor dead near a popular landmark at Zion National Park in southern Utah.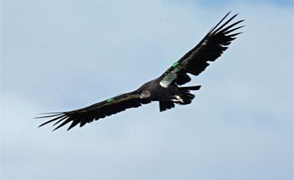 The group's project director for more than 70 condors that roam Arizona and Utah says lead poisoning is the likely cause.
Chris Parish said the condor was found dead Wednesday near Angel's Landing at Zion National Park.
Biologists were alerted to a problem when a motion device signaled the 9-year-old female hadn't moved for much of a day.
The condor's body was sent to a San Diego lab for testing. Results aren't expected for a week or more.
Officials say the No. 1 cause of condor deaths is the lead in bullet-ridden carcasses left by hunters.
Parish says two other condors found dead in December in northern Arizona died of lead poisoning.
The California condor is North America's largest bird, with a wing span nearing 10 feet and the ability to soar to an altitude of 15,000 feet. It feeds on the carcasses of dead animals.
Condors were on their way to extinction two decades ago when the last ones were captured for a breeding program. Since then, dozens have been released into their old natural habitats in California and Arizona, and their numbers have grown.