Economists who advise Arizona's independent legislative budget analysts say residents who have hunkered down through years of tough economic times may finally have reason to be a little more perky this year.
The state's housing market is on the upswing, job growth has returned and that means higher revenues for the state. That should provide slightly more money for Gov. Jan Brewer to spend on priorities like education and adding Child Protective Services workers.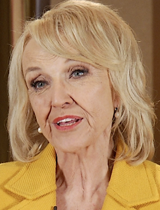 PHOTO: AZPM
Gov. Jan Brewer.
But the economists who serve on the Joint Legislative Budget Committee's Finance Advisory Committee agreed Thursday that the independent forecast for state tax revenue growth released earlier this week is closer to an accurate picture than that embraced by Brewer.
If they're right, a projection by Brewer's budget analysts for the 2013-2014 budget year is off by $261 million.
Revenues have slowed, but they were still slightly ahead of the state budget halfway through the fiscal year at the end of December, by about 0.4 percent, according to the JLBC's monthly report issued last week.
The Legislature follows closely the JLBC's revenue forecasts in drawing up the state budget, the key task for the legislative session that began last week.