The forecast low in Tucson overnight Tuesday is 30 degrees, cold enough for many sensitive desert plants to be damaged or even killed.
Plant experts say the best way to protect them is to completely wrap them in light fabric, something that holds heat in while still allowing indirect sunlight to reach the plants.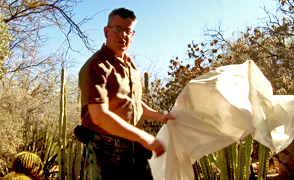 PHOTO: Mark Duggan
Michael Chamberland, Director of Horticulture for the Tucson Botanical Gardens, demonstrates wrapping a plant in fabric to protect it from the cold.
Michael Chamberland, director of horticulture for the Tucson Botanical Gardens, keeps an eye on the weather.
The afternoon before any cold night, he and his staff wrap hundreds of plants and then unwrap them the following morning, so visitors to the gardens can see them. Others, however, can leave their more delicate plants wrapped for several weeks, Chamberland says.
He says a lot of plant damage from recent cold snaps won't become evident for several more weeks. He recommends noting which plants were damaged and using it as an opportunity to plant hardier species.
This week's subfreezing weather will be short-lived. Overnight lows are forecast to be in the upper 40s by later this week.