The Sunnyside School District is launching a new online learning program that will give 100 dropouts who were close to graduating a chance to get high school diplomas.
GradLink is available to all students in Pima County, not just former students in the Sunnyside district, said Manuel Isquierdo, the district's superintendent.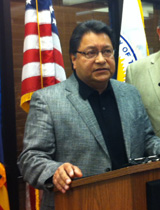 PHOTO: Fernanda Echavarri
Sunnyside School District Superintendent Manuel Isquierdo.
To qualify, students must have dropped out of high school in the last three years, they must be between the ages of 17 and 21, they must have passed at least two of the AIMS tests and need five credits or fewer to graduate, Isquierdo said.
"This is not adding costs to the district or requiring new staff," he said. "The students will get refurbished laptops from the district, the classes are provided by FlipSwtich, and if the students want to have a blended model where twice a week a teacher works with them, they can do that at our alternative school or our community school."
The biggest challenge for the school system, Isquierdo said, is finding those students who have recently left.
"They get discouraged and they drop out and drop off the community," he said.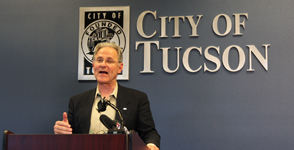 PHOTO: Christopher Conover
Tucson Mayor Jonathan Rothschild
That's why Tucson Mayor Jonathan Rothschld is reaching out to recent high school dropouts and publicly supporting GradLink.
"Today to get any kind of job where you can support yourself you need to have a high school diploma," he said.
Although he does not oversee school districts, Rothschild said he wants to use his position as mayor to improve education in the city.
One group targeted for the program is made up of dropouts who are in the United States illegally. With high school diplomas, they can qualify for President Bartacvk Obama's deportation deferral, Isquierdo said.
Among the seven requirements to qualify for the temporary legal status is to be currently in school, have finished high school or received a general education development certification.