Tucson Mayor Jonathan Rothschild met with legislators in Phoenix this week to push the city's priorities and positions on proposals being debated in the House and the Senate.
"The purpose of my trip was to go up and meet with members of the state Legislature to express either places of support or concern with bills that are in the Legislature, particularly with bills that could impact municipalities and the city of Tucson in particular," Rothschild said.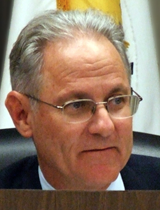 PHOTO: AZPM
Tucson Mayor Jonathan Rothschild.
The mayor said he supports Gov. Jan Brewer's plan to expand the state's Medicaid program to provide health care for poorer residents. He said the added federal funding will help increase the overall health of residents in Tucson and elsewhere, without raising costs for those cities.
Rothschild said he thinks he sees support for that from legislators.
Also on the mayor's list of issues is a state proposal to change the way sales taxes are collected for construction work. Construction sales taxes are collected based on wherever the construction site is, but that could change to make the tax applicable at the point of purchase of materials.
"It looks like municipalities in general are going to lose substantial monies if the law as drafted passes," Rothschild said. "I think in Tucson we've calculated about $7 million. But the mayors of Sahuarita, Oro Valley and Marana have all said that it would really cripple their cities."
Rothschild, a Democrat, said he met with Republican leadership and Democratic leadership separately and will stay in touch with both on issues of importance to the city. He pointed out that legislative Democrats seem to have more of a say this session because Republicans lost their super majorities.
"The two delegations are talking, they're in the halls talking to each other, they're setting up meetings with each other, and there's at least early in the session a spirit of cooperation, and everybody hopes that continues," he said.