An earthquake with a magnitude of 3.1 was measured in northern Arizona Monday morning, according to the U.S. Geological Survey. Sensors detected the quake at about 8:30 a.m. It was centered 22 miles west of Page, Arizona and 82 miles east of the town of Hurricane, Utah.
Leslie Gordon, a spokeswoman with USGS, says the quake was so small that only those who were close to the epicenter felt it. There were no reports of damage or injuries.
In a recent interview, State Geologist Lee Allison of the Arizona Geological Survey, says the area sees seismic activity from several faults that extend south from Utah. One is the Hurricane Fault, which bisects part of northwest Arizona.
"Then across the Colorado Plateau, from the Flagstaff area up past the Grand Canyon up to the Utah border, is, at least in modern history, where most of the earthquakes have been occurring," says Allison. "And there's a whole series of relatively small faults up there, compared to something like the San Andreas."
Other seismically active areas of the state include Yuma and parts of southeast Arizona. Most of the earthquakes historically reported in those areas have been minor.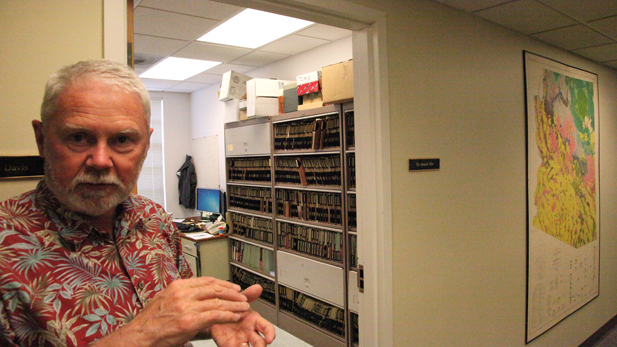 PHOTO: Mark Duggan
State Geologist Lee Allison at the former Arizona Geological Survey office.