Tucson Mayor Jonathan Rothschild gave his State of the City address Tuesday, highlighting economic development and plans to expand international trade opportunities for local businesses.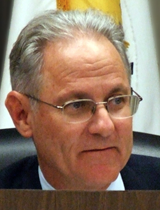 PHOTO: AZPM
Tucson Mayor Jonathan Rothschild.
Rothschild also focused on partnerships with organizations that can help the city, such as working with the University of Arizona on a technology initiative called Tech Launch Arizona, and the university's College of Architecture to work with the city Planning Department.
The Tucson Mayor also announced three new task forces. His new Education Task Force is meant to focus on ensuring academic standards match the needs of the business world, to educate and then retain students in Tucson.
The Health and Wellness Task Force will promote healthy lifestyles and programs such as Walk 100 Miles with the Mayor, a goal-based program to encourage children to be active. As a part of this task force, Rothschild is also creating a Mental Health Working Group "to look at how best to address the needs of this population."
A Poverty Task Force already exists, and the mayor says he wants to continue its work and focus on a national goal of ending veteran's homelessness by 2015, and end family homelessness by 2020.

Read Rothschild's 2013 State of the City address: View at Google Docs | Download File