More than 220 events focusing on Arizona craft brewers are planned across the state this week.
Some are tastings, others are "meet the brewer" events. It's all part of an effort to focus on beer made in Arizona. And, brewers hope, to change the tastes of the consuming public.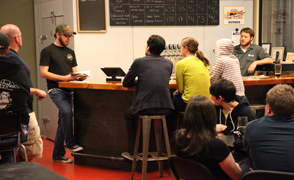 PHOTO: Mark Duggan
Tristan White explains tasting notes at a recent craft beer "industry night"
On a recent Monday night, Tucson's Dragoon Brewing Company hosted about 25 service industry workers. They ranged from bartenders to servers to restaurant owners. All shared one thing in common: They serve Dragoon's beer.
The event featured a brewery tour and a presentation on quality and tasting. The idea, according to Dragoon's Tristan White, is to make sure those who serve craft beer have a basis of knowledge about the product. And that they understand how important cleanliness matters - from brewing to serving.
The tubes that feed beer from supply kegs to taps are a crucial part of the delivery process, and one that can often break down for craft brewers. That's why Dragoon and some other small brewers - sometimes known as nanobrewers, service their own lines at bars and restaurants. It's an effort to maintain quality control throughout the entire process.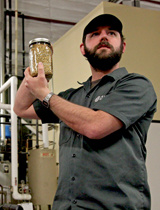 PHOTO: Mark Duggan
Dragoon head brewer Eric Greene, displaying a jar of malt to brewery tour participants
White also discusses what are known as "tasting notes." They're similar to the many "tastes like" comparisons often found in the wine world. In the modern craft beer movement, it's not uncommon hear talk of "fruit notes," "a yeasty nose" and "hints of raisins and shoe leather."
White says such detailed tasting notes help servers describe beers more accurately. It also helps to steer beer drinkers, especially those unfamiliar with craft beer, to a new experience.
Arizona Beer Week was started by the Arizona Craft Brewers Guild to shine a spotlight on beers brewed in the state. George Hancock is a guild board member and also co-owner of Phoenix Ale Brewing Company. He says craft beer is exploding nationwide and Arizona breweries are enjoying part of that success. The hard part is getting Arizona beer drinkers to drink beer made in Arizona. That's where Arizona Beer Week comes in.
As a brewer, Hancock says he's seen several phases of the craft beer movement. It started out in the 1980s with a handful of brewers trying to move beyond the world of pale lagers that made up most American beer. They began brewing pale, brown and red ales, stouts and porters. Successive movements in the 1990s brought the return of a long-dormant style known as the India Pale Ale, or IPA, which has become one of the most popular styles of craft beer brewed in America.
The latest wave of craft brewing has beer makers experimenting with exotic ingredients. They're also making styles of beer that just a few years ago were relatively rare, including Doppelbocks, Belgian Quadrupels, Saisons and Russian Imperial Stouts.
PHOTO: Mark Duggan
Kegs await shipping at Dragoon Brewery in Tucson.