The Arizona State Senate gave preliminary approval to two bills Thursday that could change the early voting process statewide.
SB1261 would allow county recorders to remove people from the Permanent Early Voting List if a voter doesn't use a mail-in ballot in two election cycles.
Listen to the story about removing voters from the early voting list:
The bill was written to prevent another long vote-counting episode, which occurred after the November 2012 election. The delay was attributed to people who received early ballots in the mail, but voted in person on Election Day instead. That meant they had to vote on a provisional ballot, which takes longer to verify before it can be counted.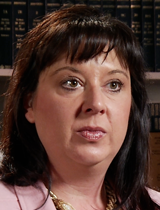 PHOTO: AZPM
State Sen. Michele Reagan, R-Scottsdale.
Sen. Michele Reagan, R-Scottsdale, sponsored the bill at the behest of the state's county recorders, who said they want to be able to remove people from the Permanent Early Voting List if they aren't voting early, to prevent them from having to go through the provisional process as often.
"What these 15 county recorders, both Republican and Democrat, have asked for is the ability that if they see people aren't using early ballots, that they're removed from the permanent early voting list," Reagan said.
The bill would allow the recorders to send people who have not voted early in two election cycles a postcard, asking if the voter wants to remain on the early voting list.
Sen. Steve Gallardo, D-Phoenix, said the bill prevents people from exercising their right not to vote early.
"The only thing this is doing is going to remove folks from the permanent early voting list with no intentions (by the voters) of being taken off," Gallardo said.
Another bill senators preliminarily approved Thursday would allow a voter to designate someone else who could turn in their early ballot.
SB 1003 would allow a voter to name, on the ballot envelope, who is allowed to turn in the ballot on their behalf.
A previous version of the bill would have allowed only family members to drop off another person's ballot.
Reagan sponsored this bill, too, and said she made changes to the bill at the request of both parties.
"It allows a voter to designate any person to return their early ballot and it would have a signed and dated statement on the envelope to allow that to happen," she said.
The statement authorizing someone else to drop off a voter's ballot to be counted would appear in the same area of a ballot envelope that already requires early voters to verify they only voted once, and indicate whether they used an assistant to fill out the ballot.
Under current law, anyone may turn in another person's early ballot without designating that choice.
Both bills need formal vote from the full Senate. If approved, they move to the Arizona House for consideration.