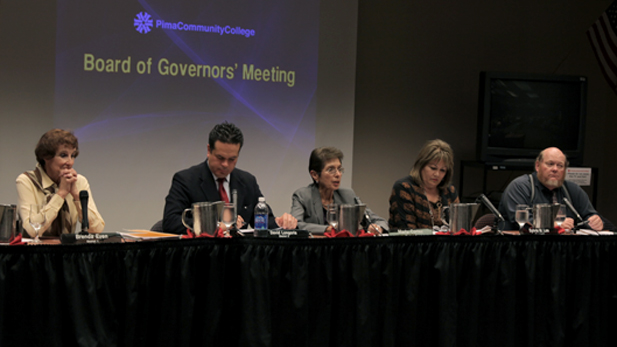 PHOTO: Fernanda Echavarri
Pima Community College Governing Board. (2013)
Pima Community College is forming a plan to get off of probation, and is looking for public input on a variety of committees.
The committees will each tackle a specific portion of the reasons the Higher Learning Commission listed when it placed the college on probation earlier this year, said Jerry Migler, PCC's provost.
Even though many of the issues the Higher Learning Commission cited were internal, the college is seeking applicants from the public to serve on committees that will work on each of the factors for retaining accreditation at the end of the probationary status.
Listen:
The committees will include faculty, adjunct faculty, staff and specialists in specific areas of accreditation, Migler said.
"We anticipate that it will need the direct involvement of about 250 people to 300 people, just working on the various committees that we're putting in place," Migler said
The college also wants students and the public to weigh in.
"It's going to touch a lot of people, both internal to the college, as well as external," he said. That is a recognition that the college serves the public, he said.
"We're looking for broad representation," he said. "Certainly because of the concerns that were raised by community members, we want to make sure that we have opportunities for community members to participate, and especially we want to have students on the committees as well."
A final report will be written with the help of a steering committee, which will include people from each of 14 committees, Migler said. The report is due July of 2014, and will be used to determine whether Pima Community College should be removed from probationary status, Migler said.
Anyone wishing to apply to serve on a Pima Community College committee must fill out a survey online by 10 a.m. June 25.