Listen:
A University of Arizona psychiatrist is leading a study to look at how raising the body's temperature can be used as an alternative treatment for depression.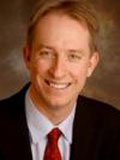 Charles Raison, MD, Associate Professor of Psychiatry and Family & Consumer Sciences
"We've known for many years that people with major depression have body temperature abnormalities," said Charles Raison, an associate professor of psychiatry and member of the UA's BIO5 team. "They tend to run a chronic mild fever and they tend to have a lowering of body temperature when they respond to treatment."

Raison said people have been on to the use of hyperthermia, connecting heat and mental well-being, for centuries.
"This may explain why almost every indigenous culture in the world seems to have independently invented things like the sweat lodge," Raison said. "We think that type of intense heat signals the brain in ways that make people happier, but also makes people more open to a deeper sense of interpersonal connections."

The study could eventually open the door for new and more effective treatments for depression, Raison said.