The group of more than 150 adult and juvenile Chiricahua leopard frogs were returned to the Galiuro Mountains recently by wildlife officials.
The Arizona Game and Fish Department re-introduced the frogs to a location in the mountains where they've not been seen in almost 20 years.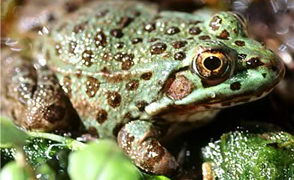 PHOTO: Arizona Game & Fish
The Chiricahua leopard frog is being re-introduced to its native habitat in Arizona and New Mexico.
The Galiuros are a remote mountain range northeast of Tucson, and were once part of the frog's natural habitat. Until the 1970s, Chiricahua leopard frogs thrived in ponds and creeks in central and southeastern Arizona. Populations declined due to drought, disease, habitat loss and threats from other species.
The frogs were listed as threatened under the Endangered Species Act in 2002.
Since then, they've been re-introduced over a wide range of Arizona and western New Mexico. The Chiricahua leopard frog is marked by its distinctive call, which can be up to two seconds in duration.
More resources:
Original Arizona Game & Fish press release about recovery program:
U.S. Fish & Wildlife Service's Species Profile on the frog: