(VIDEO: AZPM)
Arizona political leaders will decide soon whether to expand Medicaid to cover more low-income, uninsured residents as part of the U.S. Affordable Care Act.
Economic as well as health-care issues factor into the decision-making process, state and advocacy group representatives say. Under the expansion, the state could get more federal funding, but only if it agrees to spend more, too.
Additionally, state officials must decide by mid November if they will submit a plan to the federal government to run a health insurance exchange that would allow people to buy insurance affordably. If the state opts out, the federal government would create and run Arizona's exchange.
The Arizona Health Care Cost Containment System, known as AHCCCS, is gathering information to help Gov. Jan Brewer decide on the exchange and on what to include in her budget proposals to the Legislature in January.
"She knows how critical these decisions are, and so she really wanted to meet with key leaders in the health-care industry, as well as people in the community, organizations that represent folks who are on AHCCCS, the provider community, hospitals and the like," says Monica Coury, assistant director of intergovernmental relations for AHCCCS, the state agency administering Medicaid.
Coury says AHCCCS has held public meetings around the state, at which the key feedback is a push for Arizona to expand coverage for childless adults just above the poverty level. Benefits for childless adults were frozen last year as part of the state's budget cutting.
Health care industry officials and a state think tank are suggesting that the state should take advantage of full expansion for Medicaid, including finding a way to restore funding for childless adults who qualify. To qualify, their incomes would have to be no more than 133 percent of the federal poverty level.
"The full implementation of the Affordable Care Act, up to 133 percent of the federal poverty line, is the best option for Arizona," says economist David Wells, research director for the Grand Canyon Institute, which describes itself as a centrist think tank.
"It adds more jobs, it improves our economy, it covers more people, and it costs the state general fund less," Wells says.
Wells' conclusions come from his study, "Arizona's Medicaid Options under the Affordable Care Act: Fiscal and Economic Consequences," which was released at a Grand Canyon Institute press conference in Phoenix this week.
It shows that with full implementation of Medicaid, the state can add 21,000 jobs, reducing its unemployment rate 0.7 percent. Economic growth would total $2.8 billion from the added funding, Wells says.
There is a catch: Arizona taxpayers would have to cover 10 percent of the expansion costs, increasing the state's current Medicaid contributions by about $900 million in the next four years.
For that increase, the state would get an estimated $3.76 billion more in federal Medicaid funding, according to figures from AHCCCS.
The added spending by the federal and state governments would bring an estimated 200,000 more people onto Medicaid roles in Arizona, providing them with coverage or the opportunity to purchase insurance with subsidies.
Read David Wells' economic study here
View at Google Docs | Download File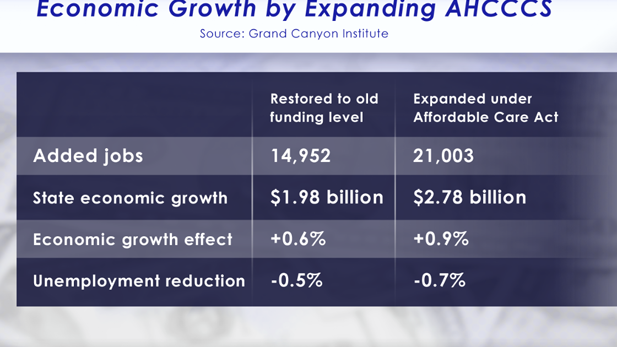 (PHOTO: Robert Jaime, AZPM)