Endorsements are a part of the political process. Individuals and organizations publicly state their support for a candidate, and a candidate advertises those endorsements as a way to prove legitimacy.
But how much of a role do they really play in the election process?
The old addage, what's in a name, is a truism in politics. Candidates must prove their value to voters, and one way they attempt to do so is by advertising their supporters.
A stamp of approval from an organization such as the National Rifle Association or Planned Parenthood can tell someone a lot about a candidate's position on one issue. But endorsements also come from statewide or local organizations, or from another politician.
One might expect an endorsement to equal votes, but "the effects are probably more subtle than that," said Kevin Coe, an assistant communications professor at the University of Arizona.
"An endorsement, it can improve a candidate's favorability ratings which could contribute to likelihood to vote among some individuals. But what's probably more often the case, (the) more substantial effect is it gives a candidate a kind of credibility with the media, and what that can do is encourage coverage for a candidate who doesn't have a lot of name recognition, that can be important. And it can also encourage a more positive tone in the news coverage."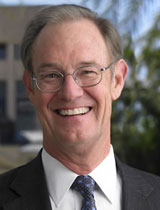 Terry Goddard, former Arizona Attorney General
Former Arizona Attorney General Terry Goddard, a Democrat, echoed Coe's suggestion that endorsements help with name recognition.
Goddard was elected Mayor of Phoenix for several terms before his election to Attorney General, a statewide office. He lost a bid for Governor against Republican Jan Brewer in 2010.
The value of endorsements varies, he said.
"I think it does matter more for somebody who's just starting out. For example, if you're running as a Republican or a Democrat and you want to get party support, if you're a brand newbie, having a John McCain or a Jon Kyl or even a Terry Goddard say that you're a worthy candidate is a shortcut to getting other people who are active in the party to give you a hearing," Goddard said.
Republican Dean Martin is a former Arizona state Treasurer, who also used to hold a seat in the Legislature. He too, ran for governor in 2010.
"It's actually the farther down you are on the ballot, and the less known you are, the more important it becomes," Martin said. "The higher up on the ballot it's actually less important than you would think."
After years of political experience and elections at various levels of government, in seperate interviews Goddard and Martin say endorsements are a part of politics, but not necessarily critical.
So why should an organization weigh in on a race? The Arizona Chamber of Commerce chooses to evaluate candidates and endorse some of them in state races.
"When it comes to endorsements and weighing risk and reward, we'd prefer to err on the side of being more involved rather than less involved.," said Garrick Taylor, the chamber's senior vice president of government relations and communications.
The chamber can help the public evaluate a candidate on certain issues, he said. This year, the issues of job creation and economic growth have taken a central role in elections at nearly every level of government. The chamber endorsements can help guide voters on those topics, Taylor said.
"We look to support those candidates that will support Arizona's job creators and advance a pro growth agenda in the state," he said.
To do that, the chamber's public affairs committee sends questionnaires asking for candidates' views. Incumbents are evaluated on how they've already voted on legislation.
This year, the Arizona Chamber of Commerce has endorsed Republican U.S. Rep. Jeff Flake for U.S. Senate, Democratic state Sens. Linda Lopez and Lynne Pancrazi for Arizona Senate, and Republican Sens. Al Melvin, Frank Antenori and candidate Gail Griffen for state senate, among many other legislative endorsements.
"For a lot of voters it's a good housekeeping seal of approval and it's important for people to understand the company these candidates keep and I think voters want to get a sense of who has looked at these candidates and who has given them the thumbs up and the thumbs down," Taylor said.
The endorsement game can be complex. Candidates say sometimes they seek endorsements simply to prevent their opponent from getting one.
There's also the case that, sometimes, candidates try not to get an endorsement, or try to distance themselves from a group or anindividual supporting them. Coe, UA political communications professor, said despite all that, endorsements don't necessarily stand out to voters.
"Many voters are not going to be tuning in so specifically for a given endorsement. Instead they'll encounter an endorsement here an endorsement there," Coe said.
Voters use all the information they have about a candidate to make a decision in a race, he said. Endorsements can be part of that, but they are taken with all the other components that help voters come to a conclusion about how a candidate could represent them.
"By the end of the campaign, by the time they make a vote choice, they probably don't remember all these things that have happened, they don't remember who endorsed whom and so on, but they do still have that attitude that is adjusted accordingly, and that can influence their vote choice," Coe said.