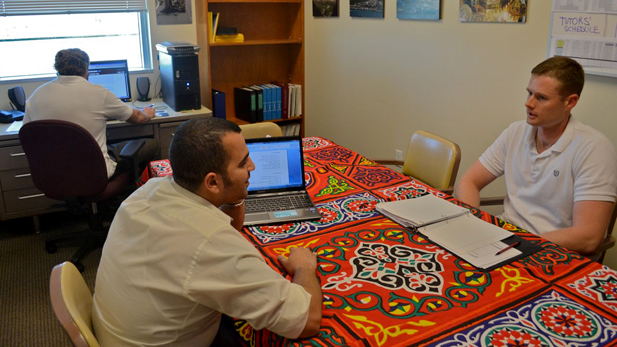 Tutor Mudhafar al-Husseini works with David Forsythe, a US Air Force ROTC student, on an Arabic assignment. Project GO, which the duo are part of, works with more than a dozen ROTC students on Arabic language and culture. (PHOTO: Amer Taleb)
As U.S. military presence remains strong in the Middle East, officers who can speak Arabic and understand the culture are highly sought after.
A new program at the University of Arizona is preparing Reserve Officer Training Corps students for possible deployment into the Arab world.

Project Global Officers, also known as Project Go, is a Department of Defense-funded initiative coordinated through the UA's Center for Middle Eastern Studies.
Thirteen students are enrolled, and they are required to take one Arabic course. They receive extra help outside of class through weekly one-on-one tutoring and language partner sessions.
Kaitlyn Harrell, a sophomore Army ROTC cadet, has been in the program for about a month.
"I started from scratch with the writing, the reading and the speaking. I can introduce myself already, tell someone where I study, where I go," she said. "It's all coming really fast, but it's really interesting."
Aside from the language, Project GO teaches students about Middle Eastern culture and gives them a sense of the atmosphere they'll encounter overseas.
Charles Mink, the program coordinator and an Army veteran, says the Arabic training he received before deploying to Iraq was the key reason he was able to communicate effectively with the people he interrogated.
"I thought that I could get a much more accurate read on somebody by knowing the language," he said. "So for an intelligence job, I don't think it can be done, frankly, without the language. It certainly can't be done as effectively."
Citing protests that erupted across the region recently in part because of an anti-Islam video that mocked the Prophet Muhammad, Mink said initiatives like Project GO will remain vital to the U.S. military.
"The Middle East will continue to be an area of the world that is, for better or worse, involved in the U.S. and our politics," he said. "We had an ambassador in Benghazi killed, we had Marines sent to the embassy in Benghazi. It simply will continue to be a very important area for our officers."