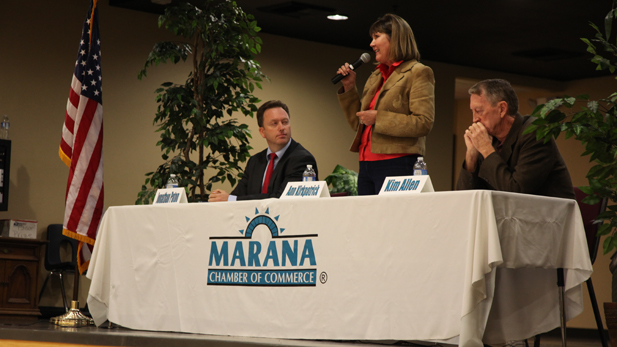 The three candidates for the newly formed Congressional District 1 in Arizona stuck to their campaign messages in their final joint appearance in Pima County Monday evening.
Republican Jonathan Paton often returned to the idea that Congress should be a check on the president.

Democrat Ann Kirkpatrick stayed with her theme of leaving party labels at the door of Congress and reaching across the aisle to get things done.

Libertarian Kim Allen said he knows that his chances of winning the election are slim, saying that the first thing he will do if he wins is "go to Vegas."
The district stretches from Oro Valley on the south to the Utah state line on the north, making it larger than many states. The candidates in the race must therefore balance the needs of higher income families in Southern Arizona with those of the Navajo Nation, where unemployment is more than 50 percent.