Raul Grijalva declared victory Tuesday night for a sixth congressional term, as he easily fended off Republican challenger Gabriela Saucedo Mercer in Congressional District 3.
Watch Grijalva's victory speech:
(VIDEO: AZPM)
Grijalva had 57.1 percent of the votes to Saucedo Mercer's 38.6 percent, with about one-fourth of the precincts counted in the heavily Democratic district.
Watch interview with Saucedo Mercer:
(VIDEO: AZPM)
Southern Arizona's other two congressional races were too close to call.
In CD 2, Republican Martha McSally took a 1,312-vote lead over Democratic incumbent Congressman Ron Barber, with an untold number of provisional and other ballots still to be counted. Her lead was six-tenths of 1 percentage point.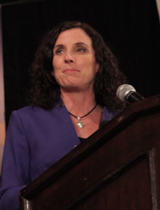 Congressional candidate Martha McSally. (PHOTO: AZPM)
McSally was planning a 10:30 a.m. news conference in Tucson after signing off late Tuesday by telling her supporters that she was optimistic but wanted to wasit for definitive results.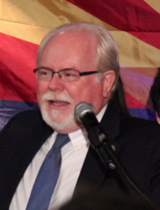 U.S. Rep. Ron Barber, D-Ariz.
"We will continue to watch the results through the hours and days," Barber told supporters late Tuesday.
In CD 1, former Democratic congresswoman Ann Kirkpatrick took a 6,504-vote lead over Republican Jonathan Paton. Votes from two of the district's 339 precincts and provisionals remained to be counted.
Paton spoke at the GOP rally in Tucson Tuesday night, expressing cautious optimism that votes from his home county, Pima, would carry him.
The three congressional races all centered on one theme: the economy.
The region for the last two decades has been represented by two members of Congress. Redistricting this year brought a third district into Southern Arizona, District 1, covering the northernmost parts of Pima County and extending north all the way to the Utah line.
Watch Paton's interview with AZPM:
(VIDEO: AZPM)
The issue that dominated the presidential race was also the most important for the federal candidates running to represent the state in Congress. Immigration, abortion and health care, all important issues, were nudged to the back burner by consistent discussions of job growth and the economy.
Candidates sparred on taxation policy, with Southern Arizona Democratic candidates generally saying they support extending the Bush-era tax cuts to low- and middle-income earners, while Republicans generally support keeping all the cuts in place, including for the highest earners.
Health care reform was also highlighted as an economic issue, with Republicans saying the Affordable Care Act will cost businesses money and prevent them from expanding and adding jobs. Democrats said the reforms will protect benefits such as Medicare that people paid for while working.
Republicans said the act's cuts to Medicare funding will cripple it, and other options are necessary, while Democrats said the cuts eliminate waste and will keep the program solvent longer.
CONGRESSIONAL DISTRICT 1
Former U.S. Rep. Ann Kirkpatrick, a Democrat from Flagstaff, and former state Sen. Jonathan Paton, a Republican from Tucson, battled for the seat. Libertarian Kim Allen also was on the ticket.
Kirkpatrick represented much of the same district in 2009 and 2010 before losing a reelection bid in 2010. Paton resigned his state Senate seat in 2010 to run in then Congressional District 8 but lost in the primary.
CONGRESSIONAL DISTRICT 2
Democrat Ron Barber and Republican Martha McSally faced off in a district that encompasses much of Tucson, eastern Pima County and all of Cochise County along the Mexican border.
Barber is the incumbent, having won the Congressional District 8 seat in a special election in June, following the January resignation of Gabrielle Giffords. He served as Giffords district director at the time they both were wounded in the Jan. 8, 2011 Tucson shooting that took six lives and left 11 others injured.
McSally is a retired Air Force colonel who was the first female fighter pilot, having flown missions in the Iraqi no-fly zone in the 1990s and commanding a fighter squadron.
Barber sought to portray himself as politically similar to Giffords, who was considered a moderate. McSally said her conservative approach is more suited to the district and that Barber is too liberal.
CONGRESSIONAL DISTRICT 3
Incumbent Democrat Raúl Grijalva won his sixth term, having first been elected to Congress in 2002. He was challenged by Republican Gabriela Saucedo Mercer, a naturalized citizen who was born in Mexico, and Libertarian Blanca Guerra.
Grijalva campaigned on his record as a progressive. He has served for several years as co-chair of the Congressional Progressive Caucus. Saucedo Mercer attacked Grijalva as being soft on immigration enforcement and border security, while he said he supports comprehensive immigration reform and a path to citizenship for those in the country illegally.
Saucedo Mercer said those who wish to move to the United States must do so legally, although she would like to see the process expedited.