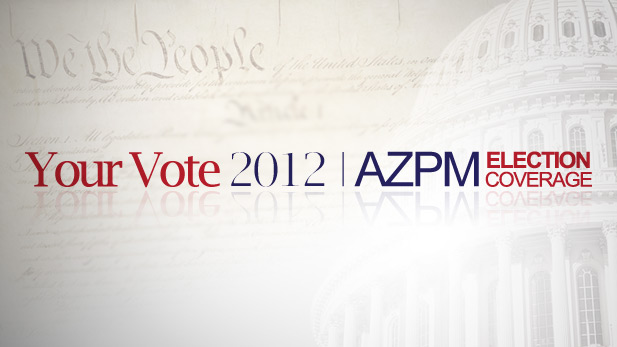 Your Vote 2012 AZPM Election Coverage (PHOTO: AZPM)
Reporters from Arizona Public Media fanned out across Southern Arizona on election night to talk to the candidates about their wins, losses, and the races that remain too-close-to-call.
By Christopher Conover, Mark Duggan, Fernanda Echavarri, Andrea Kelly and Steve Shadley ARIZONA PUBLIC MEDIA
Listen to the half-hour Your Vote 2012 Election Wrapup:
Most races affecting Southern Arizona were decided Tuesday: Republican Jeff Flake won Arizona's open U.S. Senate seat, and Democrat Raúl Grijalva coasted to another easy win in Congressional District 3.
But in Congressional Districts 1 and 2, the races were too close to call.
Democrat Ann Kirkpatrick held a slight lead -- two-tenths of 1 percent -- over Republican Jonathan Paton in CD 1, and Republican Martha McSally was leading by one-half percentage point over incumbent Democrat Ron Barber in CD 2.
In the Tucson Unified School District, two new faces join the governing board, while one incumbent kept his seat. Voters reelected former board president Mark Stegeman and added newcomers Kristel Foster and Cam Juarez to the five-member board.
Arizona voters decided not to continue a penny-on-the-dollar sales tax for education, and also declined to change the way the state's political primaries are conducted.