By Andrea Kelly and Christopher Conover ARIZONA PUBLIC MEDIA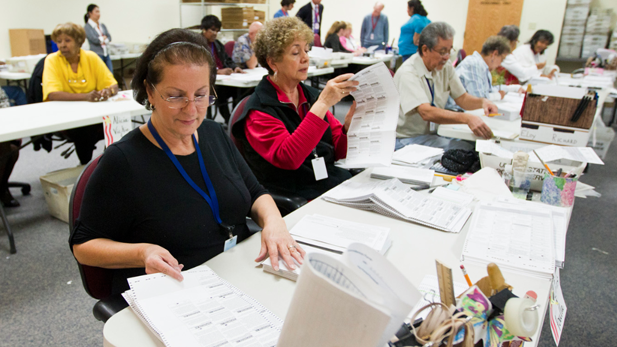 Pima County Elections Department workers process early ballots after the 2012 election. (PHOTO: Pima County Communications Department)
In this year's general election, the so-called Latino vote has been the subject of a lot of debate. Politicians have actively tried to court Latino voters, but are they really getting through? Do they even know who they're reaching out to?
Republican Presidential candidate Mitt Romney aired TV ads in Spanish, along with numerous other politicians, and former President Bill Clinton spoke about the benefits of the DREAM Act while campaigning in Tempe for Democrat U.S. Senate candidate Richard Carmona.
But campaigns should realize that one ad in Spanish, or one stump speech on immigration-related issues is not enough, said Susan MacManus, of the University of South Florida.
"The more effective Spanish-language ads are micro-targeted, just like among other groups in the country," she said. "You could do a one-size-fits-all Spanish-language ad, but the closer it gets to election day and the more you're really trying to reach small and different slices of the Latino vote, you're better off to run slightly different ones emphasizing different things and different issues."
Courting the Latino vote is nothing new, said John Garcia, of the University of Michigan's Center for Political Studies. Former President Ronald Reagan courted Latino voters, too. The reason Latinos were so heavily courted this year has to do with the attention paid to Latino population growth shown in the 2010 U.S. Census, MacManus said.
"There was a lot of publicity about the changing demographics of states," she said.
Voting trends have also been changing, Garcia said.
"Each successive presidential cycle since 2000 the percentage of Latinos in the electorate has been jumping almost by 50 percent. So it's now I think 12 percent, 12.5 percent of the total electorate are Latino," Garcia said.
Who are those 12.5 percent of voters who are called the Latino vote?
"I think it's dangerous to sort of say that the Latino vote is one specific type of vote or it's going to go on one specific issue. I think it's more appropriate to say that Latinos are a microcosm of the diversity of the United States," said Eric Hedberg, a faculty associate at Arizona State University to explain.
Then why do we always hear about the Latino vote as if it is a uniform group of people acting in lockstep?
"I think that's just the nature of any media or sort of national discussion," said Hedberg, who is also an analyst for the Morrison Institute's Latino Public Policy Center. "As you have a discussion at a larger and larger aggregate of people, the simpler things have to be for people to remember the discussion and sort of talk about these issues in a tractable way."
In Arizona, Latinos make up 30 percent of the population and 25 percent of Arizonans old enough to vote. They are hard to track, Hedberg said, because they vote in a way he describes as independent as much as they vote with Democratic Party platforms.
In the future, Hedberg said, Arizona's Latino voters are projected to be even more independent.
"Independent doesn't mean undecided. Independent means that their issues don't fit neatly into the Republican or Democrat platforms," Hedberg said.
And party preference isn't uniform among Latino voters. In Florida, the diverse Latino population is also difficult to track, said McMannis, of the University of South Florida. The Cuban vote, for example, tends to lean Republican, but in the November presidential election that wasn't a given, she said.
"The really big surprise of this election season was that the Cuban vote split. A lot of that is due to the generational replacement of older Cubans who are heavily Republican and much more focused on Cuban foreign policy, whereas younger Cubans are much more likely to vote Democratic," she said.
Political involvement also differs among Latino voters according to the political climate, said Garcia, of the University of Michigan.
"Those who have naturalized really post, mid-1990s and clearly 2000 have been living in a very hostile, anti-immigrant environment. So part of the motivation to naturalize is to kind of either survive or protect yourself from legislation that doesn't favor permanent resident aliens," Garcia said.
That affects how they act after they become voting-eligible citizens, he said.
"So once naturalized they're more inclined to be politically engaged, politically oriented, vote," he said.
Polling agencies that try to track the Latino vote have to first identify who to poll.
Hedberg of ASU said that process starts with census and marketing data to figure out a geographic area in which to focus. After voters are reached by telephone, pollsters ask them to identify their racial groups.
That means surveys of Latino voters are compiled of people who self-identify as Latino.