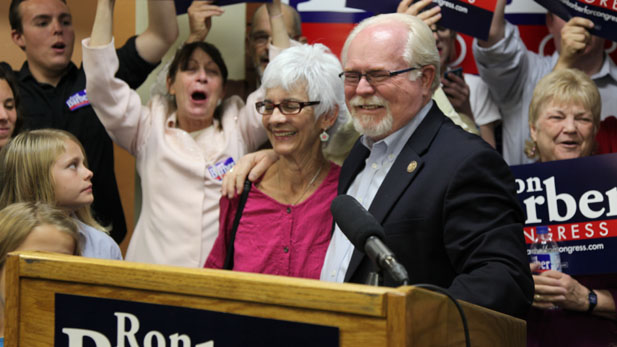 Democrat U.S. Rep. Ron Barber smiles with his wife Nancy as he declares victory in the Congressional District 2 race, Nov. 17, 2012. (PHOTO: Andrea Kelly)
Democrat Rep. Ron Barber declared victory in Congressional District 2 Saturday, in a race that has for more than a week been too close to call.
He made the declaration after Republican Martha McSally called him to concede and after several news organizations called the race in his favor.
Barber held a lead of about 1,400 votes Saturday morning over McSally. The margin comes to less than four-tenths of one percentage point. The race has been within hundreds of votes since election night.
Barber said he looks forward to representing all constituents in the district, acknowledging his margin of victory was small.
"Whether you voted for me or not, I want to hear from you, and I will do my level best to represent every one of my constituents," he said Saturday afternoon.
The race was undecided for more than a week because tens of thousands of early ballots and provisional ballots remained to be counted. With such a close margin and so many votes uncounted, both campaigns were waiting before declaring an outcome.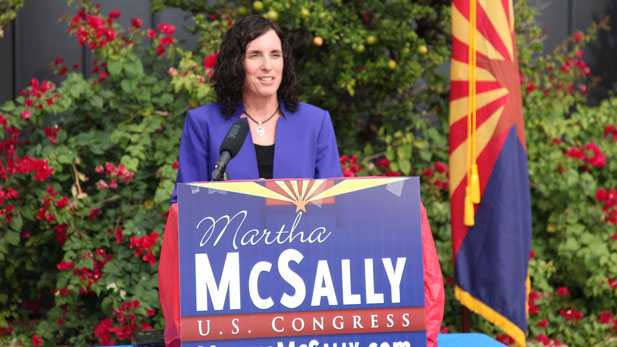 Republican Martha McSally concedes the Congressional District 2 race to Democrat Ron Barber, Nov. 17. 2012. (PHOTO: Andrea Kelly)
McSally said she was disappointed in the result but happy with the way she ran her campaign. She said the race is a good reminder of why it's important to vote.
"Look at this race as an example of why every vote really matters. I mean, this really came down to every single vote being verified and counted," she said.
The close race means Barber will represent a divided district, and he said Congress has a similar challenge.
"We have many important decisions to make, and in order to make those decisions and to do what's right, we have to find compromise and we have to find bipartisanship. That's the only way we're going to get this job done," he said.
Barber won the remainder of the term in Congressional District 8 in June, after a special election was called to determine a replacement for former U.S. Rep. Gabrielle Giffords. She resigned in January to recover from injuries she suffered in the Jan. 8, 2011 shooting at one of her congressional office events.
Winning the special election meant Barber holds the seat until January. This November election was to decide who would serve a full two-year term in the district that was redrawn and renumbered to Congressional District 2.
McSally competed in the four-way primary during the special election, but lost to fellow Republican Jesse Kelly. She and Barber beat primary challengers in District 2 before facing each other in the general election last week.
While she lost the race for Congress, McSally said she isn't going anywhere.
"I felt very convicted and called to step up and serve in this way, and I did it. My motto is keep doing what you're called to do until you're called to do something different," McSally said. "I'm going to continue to serve. I'm going to continue to make a difference, (but) I don't know exactly what that is."
With this race decided, Arizona will send five Democrats and four Republicans to the U.S. House for the two-year term that begins in January. They are:
District 1 - Ann Kirkpatrick, D-Flagstaff District 2 - Ron Barber, D-Tucson District 3 - Raul Grijalva, D-Tucson District 4 - Paul Gosar, R-Flagstaff District 5 - Matt Salmon, R-Mesa District 6 - David Schweikert, R-Fountain Hills District 7 - Ed Pastor, D-Phoenix District 8 - Trent Franks, R-Glendale District 9 - Kyrsten Sinema, D-Phoenix