Steven Baker, 10, speaks to TUSD's governing board about why his school, Hollinger Elementary, should stay open. (PHOTO: Fernanda Echavarri)
The Tucson Unified School District Governing Board has added Maxwell, Brichta, Menlo Park, Manzo, Cragin and Wakefield to its list for possible closures.
These could be closed or consolidated next academic year. The board voted to keep Pueblo Gardens Elementary School and Santa Rita High School open, and they were taken off the list of closures.
Last week, the board voted to start the closure process at Hohokam and Carson middle schools, Howenstine High Magnet School and at five elementary schools: Schumaker, Fort Lowell-Townsend, Corbett, Lyons and Sewell.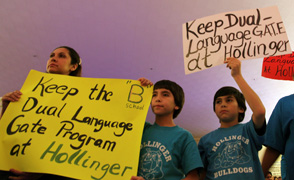 Students rally at a TUSD board meeting in opposition to closing their school. (PHOTO: Fernanda Echavarri)
The list includes 14 schools but their closure is not final. The governing board must have two public meetings for those who might be affected by the closures. After that, board members will vote to finalize the list on Dec. 20.
Tuesday's meeting had the largest turnout yet. The auditorium at Catalina Magnet High School was packed and dozens of teachers, students, parents and community members spoke about the negative impact of school closures.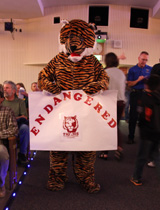 (PHOTO: Fernanda Echavarri)
The concerns most often cited were lack of transportation or difficulty for students to get to and from school, and the loss of academic achievement for students who may get lost in the shuffle, especially children with special needs who benefit from smaller schools, many teachers said.
The possibility of a deeper drop in enrollment as a result of having fewer schools troubles board members Adelita Grijalva and Michael Hicks. They both said Tucson's west side and east side are getting hit the hardest and students in those areas may start looking at charter schools or private schools as an option.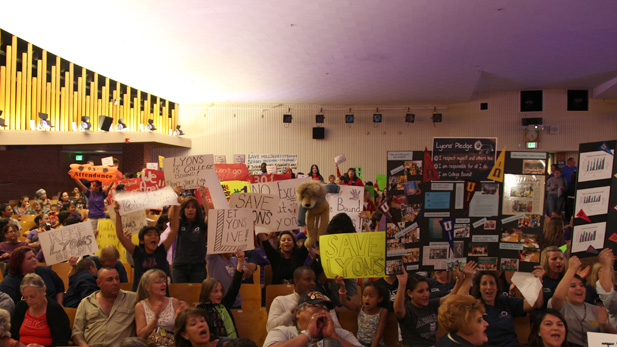 (PHOTO: Fernanda Echavarri)