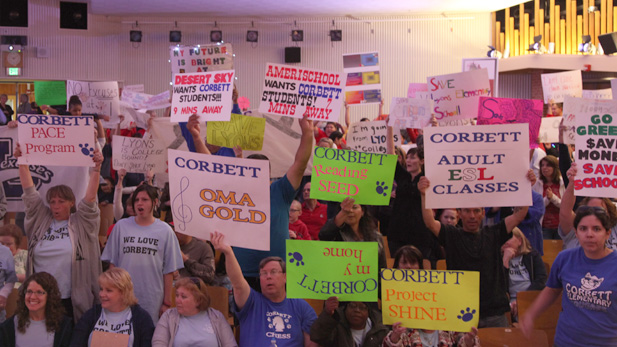 Hundreds protest the closure of schools in the Tucson Unified School District. (PHOTO: Fernanda Echavarri)
Tucson Unified School District officials will hear from the public one last time tonight before making a decision on which schools to shut down next academic year.
Fourteen schools are on the list of possible closures as the district tackles a $17 million deficit. Closing all 14 schools would cut that debt by $5.2 million, TUSD officials have said. The rest of the cuts would come from administration, programs and services.
On Saturday, hundreds packed the auditorium at Catalina High Magnet School for the first of two public hearings before members of TUSD's Governing Board and district officials.
Greg Reid, whose son is a student at Corbett Elementary School and is enrolled in the Gifted And Talented Education program, testified that the idea of staying with TUSD if his school closes is becoming more and more difficult.
"We've looked at the Vail School District, the Tanque Verde District and going into charter schools," Reid said. "I've been a resident of Tucson for 50 years I've gone through the district, but right now it's getting to be a hard decision to stay there."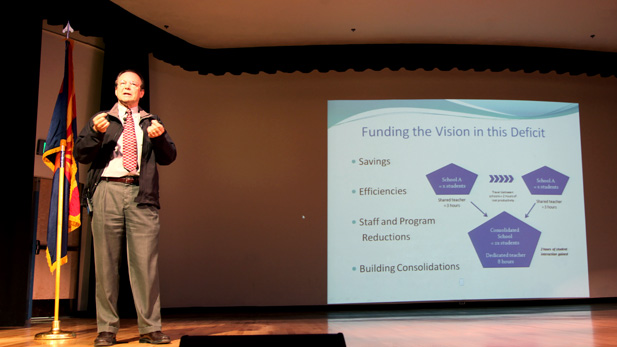 Bryant Nodine, planning manager for Tucson Unified School District, speaks at the first of two public hearings about school closures. (PHOTO: Fernanda Echavarri)
TUSD has experienced a drop in enrollment in the last five years, about 2,000 students each year, said John Pedicone, TUSD's superintendent.
Fewer students mean less money from the state on top of already decreased funding from Arizona lawmakers. In the last five years,the district has lost about $50 million from enrollment declines and $50 million from state funding cuts, Pedicone said.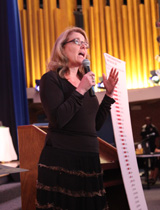 Arizona Education Network president, Ann Eve Pedersen, speaking at TUSD's public hearing. (PHOTO: Fernanda Echavarri)
School closures are not popular, he said, but if the district doesn't make significant changes now, it will be back here in a few years.
The closures will not take place until next academic year, said Bryant Nodine, TUSD's planning manager. The district's governing board selected the 14 schools from a list provided by TUSD staff, Nodine said, and will decide on which schools can start the closing process on Dec. 20.
Speakers from each school had three minutes to address board members at Saturday's hearing. Many were upset about the closures, others suggested alternatives such as cuts to administrative salaries, utilities and consolidation of district offices instead of schools.
"The problem is with our state Legislature," said Ann-Eve Pedersen, president of the Arizona Education Parent Network, a Tucson-based group that worked unsucessfully this year to get the one-cent education sales tax extended.

Pedersen asked the audience to ask newly elected legislators to put money back into public education to avoid more school closures.
The last public hearing is Monday at 6 p.m. at Catalina High Magnet School, 3645 E. Pima St.
The 14 schools that could close are:
Brichta Elementary School, 2110 W. Brichta Drive
Carson Middle School, 7777 E. Stella Road 

Corbett Elementary School, 5949 E. 29th St. 

Cragin Elementary School, 2945 N. Tucson Blvd. 

Fort Lowell/Townsend K-8, 2120 N. Beverly Blvd. 

Hohokam Middle School, 7400 S. Settler 

Howenstine High School, 555 S. Tucson Blvd. 

Lyons Elementary School, 7555 E. Dogwood St. 

Manzo Elementary School, 855 N. Melrose Ave. 

Maxwell Middle School, 2802 W. Anklam Road 

Menlo Park Elementary School, 1100 W Fresno St. 

Schumaker Elementary School, 501 N. Maguire 

Sewell Elementary School, 425 N. Sahuara Ave.
Wakefield Middle School, 101 W. 44th St.