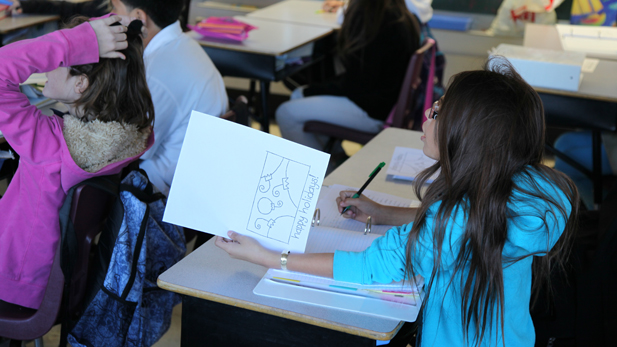 (PHOTO: Christopher Conover)
Students at Wright Elementary School spent Monday decorating the front of cards and writing personal notes inside for deployed troops.
A card written by fifth-grader Stephanie Edwards wasn't a generic holiday greeting. Hers was addressed to her brother, Robbie, who is serving in the Navy. The siblings haven't spoken in months so the card carried the emotion.
"Come home for like the holidays, and like if it's a job you can do your job, but I love you like a brother, and I really want you to come home for the holidays," Robbie's little sister wrote.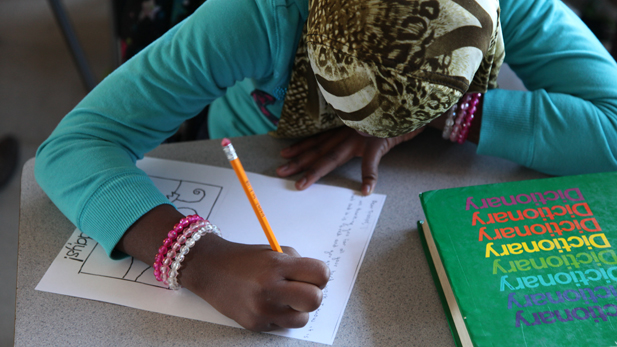 (PHOTO: Christopher Conover)
Wright Principal Maria Marin is hoping the cards serve as an inspiration for the troops. She knows the reality of war all too well. Her son Martin, an Army Ranger, was killed in Afghanistan in 2010. She says in her sorrow, she loves to tell her son's story.
"I'm still working on my healing, but children are what helped me every single day," Marin says. "They see how important it is to come to school every day and grow and learn."
The office of U.S. Rep. Ron Barber, D-Tucson, is collecting the cards written at the schools. In the coming days the boxes of holiday wishes will be sent to local military bases so the cards can be delivered overseas for the holiday season. Cards will also go to the VA Hospital.