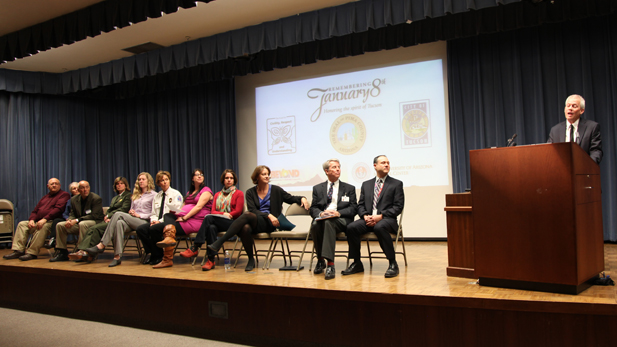 Ross Zimmerman, father of Gabe Zimmerman, joins members of the January 8th Memorial Foundation to discuss plans for the second anniversary of the Jan. 8, 2011 shooting that killed his son. (PHOTO: Andrea Kelly)
Listen
Several community groups are preparing memorial events for the second anniversary of the Jan. 8, 2011 shooting on the northwest side of Tucson.
Organizations are planning activities, preparing to award grants and planning memorials to mark the event.
Day of activities scheduled The Beyond organization, started by Ross Zimmerman, father of shooting victim Gabe Zimmerman, has planned more than a dozen events for Jan. 5 to encourage the community to take part in outdoor activities that some of the 2011 shooting victims enjoyed, and to bring people together to honor the anniversary.
The shooting occurred during a congressional event at the Safeway near North Ina and West Oracle roads.
Jared Lee Loughner pleaded guilty earlier this year to shooting 19 people. Six of those victims died of their wounds, and 13 others were injured.
Loughner is medicated and undergoing treatment for schizophrenia at a federal prison hospital. Because of that, he was declared competent to enter a guilty plea this year in the federal case against him.
In that plea, he admitted to the murders, plus the attempted assassination of then-Congresswoman Gabrielle Giffords, who stepped down from office this year to continue recovering from her brain injury as a result of the shooting.
In January 2012, Beyond hosted the majority of the public events marking the anniversary of the shooting. That time, and for the second anniversary, they include events at places that have been renamed in honor some of the victims, including a hike on the Gabe Zimmerman Davidson Canyon trailhead and a "stroll and roll" event at Christina-Taylor Green Memorial Park.
In addition to the events listed on the Beyond website, an interfaith prayer service is scheduled for 3:30 p.m. Jan. 6 at St. Augustine Cathedral, 192 S. Stone Ave.
A town hall and roast of elected officials representing the city's residents of Ward 6 is scheduled for 7 p.m. Jan. 7 at the Loft Cinema, 3233 E. Speedway Blvd.
University of Arizona Medical Center treated many of the shooting victims in 2011 and is holding a staff remembrance ceremony at 10 a.m. Jan. 8.
Memorial organizers are also encouraging people throughout the community to ring bells at 10:10 a.m. Jan. 8, to mark the time the shooting began.
Grants available for anti-bullying, mental health awareness Another organization started after the shooting, the Fund For Civility, Respect and Understanding, is focusing on anti-bullying and mental health support programs. The fund was started by U.S. Rep. Ron Barber and his family as he recovered from his gunshot wounds in 2011.
"It hatched out of conversations we had while we surrounded him in the ICU," said one of the founders, Barber's daughter Jenny Barber Douglas. "My sister and I took turns spending the evenings and nights with him so he would have family with him and in those late evening and sometimes all night chats this idea of this fund was hatched and it was really a way for our family to give back to the community."
Barber won a special election in June to replace Giffords after she resigned from office, and he won a full, two-year term in November.
The fund will seek applications for grants for anti-bullying and mental health programs early next year, said Executive Director Jennie Grabel.
"We know that there are so many people that are doing incredible work out there in the community that just don't have the means or funding has been cut for various reasons." Grabel said. "They could use some support to actually implement some programs and also we want to spark some innovation and creativity and see how the community can come together."
Many groups are already working on these goals, Douglas said, but the fund has brought them together in monthly meetings. She hopes people who apply for the grants will also form partnerships.
The Fund for Civility, Respect and Understanding is accepting applications for grants from Jan. 8 to Feb. 8 next year. The grants could go up to $4,000 apiece. All of the funding comes from donations and from fund-raising concerts. Application information is listed on the Fund's website.
Memorial planning underway A third group formed after the shooting is asking the community for input and money to build a permanent memorial to victims of the shooting.
The January 8th Memorial Foundation is taking on the task of creating a physical memorial of the event and its impact on the community.
Organizers say they will seek ideas from the community about possible memorial sites, and are open to talking about whether there should be one memorial, or more, said Stephen Brigham, president of the foundation's board.
The shooting happened on private property at a Safeway, but mourners descended on the University of Arizona Medical Center and Giffords' congressional office, so there may be a desire to mark more than one site, he said.
The group has consulted the memorial foundations in other communities, Brigham said. They include the 9/11 memorial in New York City, the Flight 93 memorial in Pennsylvania, and the memorial in Oklahoma City, where a federal building was bombed in 1995.
Some communities, such as New York City, and Littleton, Colo., the location of the Columbine High School shooting in 1999, have taken several years to develop permanent memorials. Brigham said the January 8th Memorial Foundation has learned that, even though there may be a sense of urgency to create a memorial, the process must not be rushed.
By taking time, he said, he hopes the end result is something that reflects community sentiment.
The non-profit foundation accepts donations mailed to P.O. Box 40355, Tucson, AZ 85717-3055.