Extreme poverty refuses to loosen its grip on many families living in the American Southwest, says a bipartisan Washington, D.C., child advocacy group.
The group, First Focus, has issued a series of studies and surveys in a report called "Big Ideas: Children in the Southwest."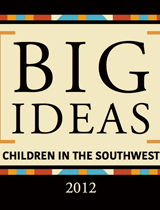 First Focus President Bruce Lesley says the research emphasizes poverty trends in Arizona and other western states struggling with government budget woes and immigration policy. He says the Southwest is important because of its rapid change.
"This is where all the growth is and this is where our future is and if we don't do right by the kids in the Southwest then we're going to fail as a nation," Lesley says.
The report includes dozens of surveys by university researchers and pediatricians measuring the extent of poverty in the Southwestern states. It also includes a series of opinion pieces written by housing and immigrant rights advocates who are pushing Congress and state legislators to fully fund programs aimed at the well being of children.
But, Lesley says, the study shows Congress has done the opposite, cutting federal spending for children's programs.

"Kids represent about a quarter of the population, but they are only getting less than 8 percent of the funding," he says.
The funding streams for education and children's programs also are drying up at the state level, Lesley says, with Arizona among states that have made deep cuts to public education and some welfare programs.
"We've also done some public polling that shows by a 3-to-1 margin, the public feels that the lives of kids in the past two years have gotten worse," he says.
Wendy Cervantes, vice president of child welfare and immigrant rights policy with Firsat Focus, says the problem goes beyond economic challenges and funding cuts. She says it touch the lives of children from impoverished families in the Southwest, and immigration policies make it difficult for some families to stay together in one place.
"When there are state laws such as SB 1070 in Arizona, that creates incredible challenges for kids to be able to have access to the resources they need ... to education without having to fear losing their parents to the immigration system," Cervantes says.
Despite that, there are hopeful signs, she says, citing President Barack Obama's executive order deferring deportation for young people brought here illegally as children.
"A lot of people think the picture is grim, but we know that the truth is that some things are working," she says. "A lot of the papers and studies that were submitted for this series are programs that are already in place. There are things that are really working and we've just need the political will and the policy makers to take leadership."


Read 'Big Ideas' report here
View at Google Docs | Download File