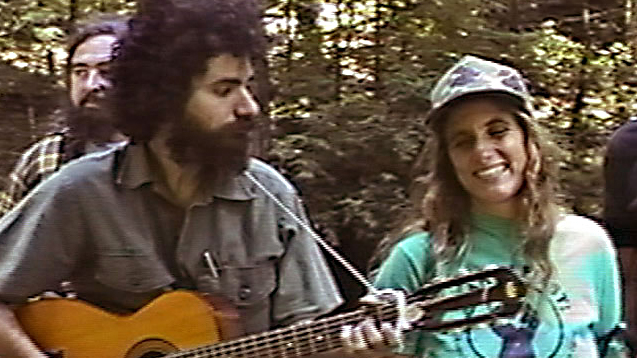 Darryl Cherney and Judi Bari sing at Nationwide Tree-sit Week, in Mendocino County, Aug. 1989 (courtesy Darryl Cherney)
A new documentary called "Who Bombed Judi Bari?" is asking tough questions about a 1990 car bombing in California that gravely injured environmental activist Judi Bari (BERRY) her colleague Darryl Cherney 23 years later, Cherney talks with Mark McLemore about making a film that serves as both a document of the still-unsolved case, and as a tribute to Judi Bari's legacy.

For over 25 years, Indigo Girls have built a reputation for strongly emotional music that connects them with their fans in a unique way. This weekend, they'll be performing some of their best-known songs alongside the Tucson Symphony in a new collaboration, and Mark McLemore talks with Indigo Girl Emily Saliers about how it all came to be.

Internationally known photographer Joel Peter Witkin is best known for bold images that challenge the viewer, often depicting the outer limits of what others may consider "normal". Luis Carrion talks with Witkin about using photography as a way to shine a light on some of life's darker mysteries.
ARIZONA SPOTLIGHT is heard every Friday at 8:30 am and 6:00 pm, and every Saturday at 5:00 pm, on NPR 89.1 FM / 1550 AM. Stories are also available online at AZPM.org.