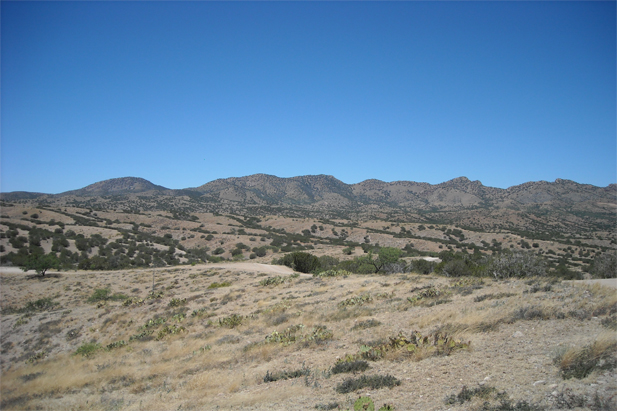 PHOTO: Mark Duggan
Site of the proposed Rosemont mine in the northern Santa Rita Mountains.
Rosemont Copper Co. has received a key air quality permit from the state for its proposed open pit copper mine southeast of Tucson.
Thursday's permit issuance still leaves the proposed project subject to federal environmental regulations and permit issuance, including an Army Corps of Engineers permit under the Clean Water Act. That depends on U.S. Forest Service approval of the project for use of public land.
The Arizona Department of Environmental Quality issued the permit "for the construction and operation of an open pit copper mine," subject to the conditions listed in 60 pages of attachments.
Among the conditions: levels and measurement methods for air quality, handling and disposal of hazardous materials, how records are kept and made available and dust control.
The Arizona Daily Star reported Friday that Rosemont would have to seek an amendment to the permit, potentially reopening the review process, if the Forest Service approves of Rosemont's revisions of how it will extract copper.
The project has met with both strong support and strong opposition in Southern Arizona.
Support comes primarily from the business community, arguing the mine will supply hundreds of construction jobs in its buildout and hundreds more when it is in operation. Officials of Rosemont, a subsidiary of Augusta Resource Corp. of Vancouver, B.C., Canada, have said the mine will create 2,900 jobs and generate $19 billion in economic impact over its 20-year lifespan.
Opposition has come primarily from environmental organizations and nearby residents who say they are worried about air and water quality, water use and the change in what they call the pristine landscape of the eastern slope of the Santa Rita Mountains. Pima County Administrator Chuck Huckelberry and several elected officials have led public opposition.
"Having received one of the last permits remaining represents a major achievement for the Rosemont Copper project as we near the end of the permitting process and prepare for construction this year," Augusta President and CEO Gil Clausen said in a press release..
"ADEQ's approval of this permit is not surprising," said a press release from Save the Scenic Santa Ritas, a key opposition group. "This agency has been decimated by budget cuts and is beholden to the regulated entities that pay the permitting fees to keep it afloat."
Pima County environmental officials had rejected the permit application, and Rosemont went to court. A Superior Court ruling last July led the state environmental quality agency to notify Pima County one month later that the state was "asserting complete air quality jurisdiction" over the project.

Read the state permit for Rosemont here: View at Google Docs | Download File