Pima Community College put its search for a new chancellor on hold this week after one of the two finalists withdrew from consideration.
A statement on the college's website, from search committee co-chairs Brenda B. Even and David Longoria, said the situation will be discussed at the next Board of Governors meeting Tuesday.
Public forums that were planned for next week - one for each of the two finalists - were put off.
"Because of concerns that have arisen regarding one of the finalists, we as co-chairs of the Search Advisory Committee have directed that the forums be postponed," the statement said. "The search process has been put on hold."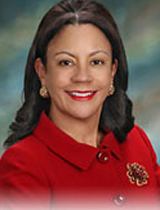 María C. Sheehan. (PHOTO: www.tmcc.edu)
Finalist María C. Sheehan, president of Truckee Meadows Community College in Reno, notified Pima officials on Friday that she was withdrawing from consideration, according to a posting on the Pima website.
The other finalist is Terrence J. Burgess, president of San Diego City College.
The Reno Gazette-Journal newspaper reported Friday that Sheehan was chief executive of the Desert Community College District in Palm Desert, Calif., during a seven-year period of potential fraud there.
The newspaper said that from 2003 until two years after she retired from the position in 2010, the district "improperly and knowingly claimed excess state apportionment funding," according to the California Community Colleges Chancellor's Office.
An audit conducted in November 2012 by California's Fiscal Crisis and Management Assistance Team revealed that the district was overpaid $5.2 million during that period and that the state would collect it in full, the Gazette-Journal said.
In an email statement to the newspaper on Friday, Sheehan said:
"I am deeply troubled with the reports that suggest I knowingly committed a wrongful act at the College of the Desert … It was my practice then and now to surround myself with the very best, most talented professionals and educators, including those who I believe were imminently qualified to calculate student enrollment figures. I depended on their skill sets on a daily basis, and as a regular practice directed senior staff to be in compliance with state regulations."
Pima is seeking a chancellor to replace Roy Flores, who went on medical leave in 2011, then resigned last year as chancellor after a tumultuous period in which he was accused of harassing female employees.
Suzanne Miles is serving as interim chancellor.